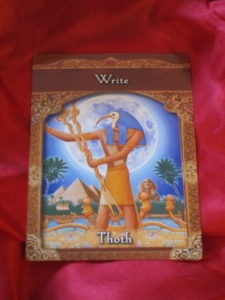 The ancient Egyptian god Thoth was said to be the inventor of the written and spoken word. The ability to communicate effectively and to express oneself through writing will be an important aspect of today.
You will have an increased ability to create exceptional written work today, so if you love to write, make sure you make a writing date with yourself.
Written words can also be very powerful when it comes to manifesting your dreams and goals. Write down what you intend to create, even if you feel like you are writing fiction. Getting your goals down on paper will give you that extra push you need to get the ball rolling.
Since Thoth is also a moon god and the moon is in it's waxing phase, now is the perfect time to put your goals and dreams on paper. Make a separate column for smaller, short term goals and bigger, long term goals. You can either put the paper somewhere visible, like your fridge or you can tuck it away somewhere and then look at it a couple of months from now. You will probably be shocked at how many of the goals you will have achieved.