Free Audio Download: How to Read Tarot Cards with Love, Light & Intuition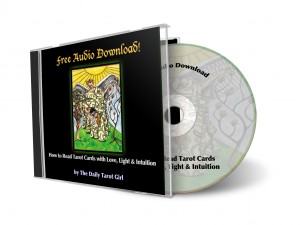 Get a free mp3 download of my mini tutorial How to Read Tarot with Love, Light and Intuition!
In this 16 minute guided exploration, I will walk you through all the steps of giving yourself an intuitive one-card Tarot or Oracle card reading.

 You will learn:
The key to enhancing your intuition
How to clear your deck
How to connect with your deck for better readings
7 Different ways to read your cards
As you listen to my mini-tutorial, you will need:
A deck of Oracle or Tarot cards
Pen and paper
An open mind!