Welcome to my tarot deck reviews page, where I give honest, straight up reviews on Tarot Card Decks and Oracle Decks. If you are shopping for a new pack of Tarot Cards, my Tarot Deck Reviews should give you a good idea of whether or not you will enjoy a particular deck. Some of the reviews also have a video component, which gives you a good sense of what the cards are like.
Tarot Deck Reviews: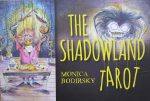 Shadowland Tarot by Monica Bodirsky
This deck is full of witchy critters, delightful monsters and fascinating creatures making it the perfect tool for shadow work and self exploration.
Modern Love Tarot by Ethony
This deck is everything I look for in a Tarot deck – bright colours, matte finish cards, relatable scenes & characters and good vibes….
The Spacious Tarot by Carrie Mallon & Annie Ruygt
The older and more irritable I get, the more I have come to appreciate decks that have a simple art style – something that leaves you lots of room to breathe and contemplate. The Spacious Tarot excels at doing just that!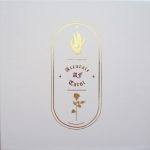 Accurate AF Tarot
This deck has so much to love – soft pastel colours with a buttery matte finish and a simple, calming style of artwork that beckons your intuition….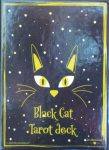 Black Cat Tarot by Helena Isabel Isidro de Almeida
When I first took this deck out of the box, I fell in love with the card backs – they're very cute and eye catching. The style of this deck is simple and uncluttered with the only colours being black, white and ochre yellow…
Lux Ex Umbra Tarot
My first impression of this deck is that it's a high quality Tarot deck, full of imagery that seems to glow and pulse with life. But let's dig a little deeper…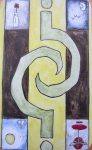 Tarot of Why by R. Campbell
Created while on tour with Cirque du Soleil and originally only intended for personal use, R Campbell decided to print multiple copies of the deck at the urging of a co-worker. And I'm glad he did! Have a look and see what makes this deck so special…
The Dark Mansion Tarot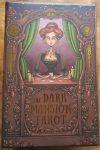 This may just be the perfect deck (according to me, anyway!). With it's fresh, gothic flavor and fun, yet mysterious vibe, this deck is a delight to the senses…read more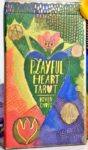 Playful Heart Tarot by Kitten Chops
If you like cats, feeling happy and doing readings that leave you feeling uplifted, then you will LOVE this unique and playful Tarot deck…read more

Ember & Aura Tarot by Jamie Richardson
The artwork of this deck is simple in it's style and calming in its colours. I love how when I read with it, the cards help me re-connect with my center of being. Read more…
Chakra Wisdom Tarot by Tori Hartman
From the creator of the Chakra Wisdom Oracle comes a unique deck that blends chakra stuff with Tarot stuff – what's not to love?! Read more…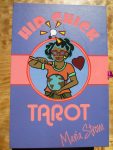 Hip Chick Tarot by Maria Strom
This is a fresh and diverse Tarot deck for the modern woman! Suits, courts and some majors have been renamed in a simple, easy to understand way. Bright colors, good feels and an appealing 70's vibe make this an intriguing deck…read more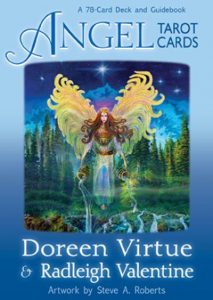 Angel Tarot Cards by Doreen Virtue
When I first heard about this deck being 100% safe and gentle, I was worried it would be wimpy and I was anxious to find out whether these cards would be a unique and useful addition to my tarot collection or just another deck that I use for bookmarks and coasters. Read more…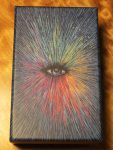 Prisma Visions Tarot & Light Visions Tarot by James Eads
These two decks are gorgeous, high quality decks with some very unique features. One deck is colorful and wild like your free spirited cousin and the other one is less colorful and more reserved…yet more mysterious….Read more!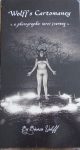 Wolff's Cartomancy by Bianca Wolff
Modern, sacred, Bohemian, edgy, free…so many words to describe this special Tarot deck. I'll be honest – I was drawn to this deck because of all the nude dudes, but there is so much more to this deck than meets the eye. Read more…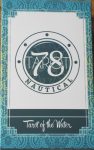 78 Tarot Nautical: Tarot of the Water
This Kickstarter funded, Global Art Collaboration deck is an 81 card deck (there are three wild cards), with each card being created by a different artist. Find out why all your Tarot friends will be jealous if you get this deck…..read more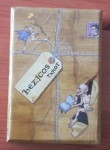 Hezicos Tarot by Mary Griffin
When I first unwrapped the Hezicos Tarot and took the cards out of the box, I was delighted at just how special these cards are! They seem to emit a lovely, magical energy that instantly puts me in a playful, contemplative mood. Read more…
Frau Grand Duchess Tarot by Jen Kruch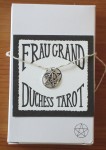 This is an atmospheric, retro, collage style deck that gives the reader a dreamlike experience as the quirky images are contemplated!
Read more…
The Lost Tarot of Nostradamus by John Matthews & Wil Kinghan
This unique and historical deck will have Tarot deck collectors practically peeing their pants with excitement. Find out why…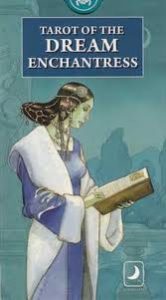 Tarot of the Dream Enchantress by Marco Nizzoli
Nude pixies, fairies and angels prance through this ultra-feminine deck and transport you to another world! There are few men in this deck, save for the occasional background lurker….Read more….
Sirian Starseed Tarot by Patricia Cori and Alysa Bartha
The first thing I noticed about this deck as I took it out of the box was how big, glossy and beautiful it was. The cards felt sturdy and dependable, making me feel like I could really trust this deck. Read more…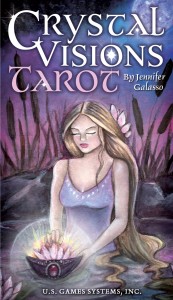 Crystal Visions Tarot by Jennifer Galasso
This deck speaks to you right away, like the voice of a wise and gentle friend, offering encouragement, guidance and secrets. You just feel good when you look through this deck – however, there is a disappointing lack of nudity…Read more…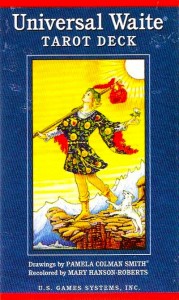 The Rider-Waite Tarot Deck Review
The Rider-Waite Tarot Deck is the most widely used tarot deck today and can be seen as the gold standard of tarot decks. While the artwork is pretty basic (yellow abounds!), this is one of the easiest decks to interpret. Read more…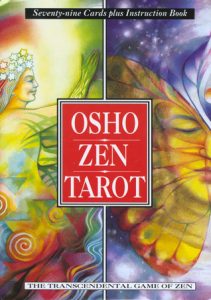 Osho Zen Tarot Deck Review
These beautiful and special cards uniquely emphasize being in the present moment and making the NOW your point of power. There are a million things I love about the Osho Zen Tarot, but my favorite thing is the way they feel. Read more…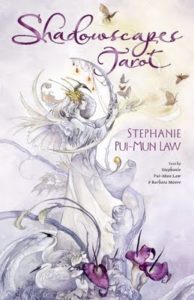 Shadowscapes Tarot by Stephanie Pui-Mun Law
This deck is an enchanting blend of motion, mood and beauty and it has become one of my top five tarot decks to read with. My only complaint is that the artwork is so rich in detail that it can be overwhelming and difficult to see everything….Read more…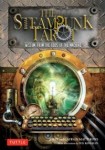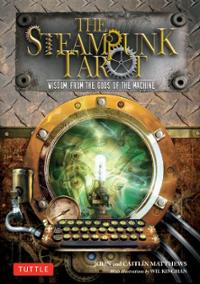 The Steampunk Tarot: Wisdom from the Gods of the Machine by John and Caitlin Matthews and Wil Kinghan
This deck is spunky, unique and fresh. Lovers of Steampunk will have a field day with this one! Read more…
Oracle Deck Reviews:

The Awakened Soul Oracle by Ethony
This deck is freakishly accurate, gorgeous and gives me goosebumps and tinglies whenever I read with it…
Oracle L'Absolu by Ange De Gaia & Gabriel Leroy
Cards are beautiful, easy to understand and always direct and clear. Whether I ask a simple question or want to explore a more complex topic, these cards both invite contemplation and provide clear insights.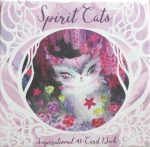 Spirit Cats by Nicole Piar
Meow, meow, meow, meow, meow! This Inspirational 48-card deck is bursting with frisky feline wisdom and gentle guidance. Read review…
Cosma Visions Oracle by James R. Eads
This deck was inspired by the spiritual journey we take between lives, which is a topic I've been fascinated by for most of my life. Join me as I unbox this deck and take it for a test drive…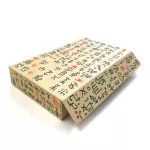 Green Glyphs Lenormand by James R Eads
Lenormand is very different from Tarot – yes, it's still cards with pictures of stuff on them and you read them, but it's done very differently. I decided to start my Lenormand journey with the Green Glyphs Lenormand…
The Power of 8 Chakra Oracle Cards
This is 44 card Chakra Oracle deck created by Trina Amiot and Michelle Gill. Join me as I unbox this deck and look through these cards for the very first time…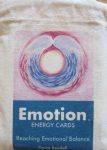 Emotion Energy Oracle by Dawn Beedell
This is a unique deck of cards, designed to stimulate intuition, feeling and contemplation. I find they work nicely as a one card, daily draw first thing in the morning…
Animal Wisdom Oracle Cards by Cara Gubbins
As an animal lover, I absolutely adore decks that feature furry and feathered creatures and other little critters! There is something special about connecting with the animal kingdom at the same time I am connecting with my intuition.
Cat Herbal Oracle Deck by Kathy Crabbe
If you know me, you know I LOVE cats and I get so excited whenever I discover a new cat themed deck. Join me as I unbox the Cat Herbal deck, a 36-card oracle deck by Kathy Crabbe….
Terra Qi Goddess Oracle
Join me as I unbox the Terra Qi Goddess Oracle, a gorgeous oracle deck that celebrates the divine feminine….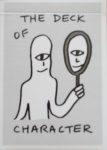 Deck of Character
Here is a fun, fresh, modern oracle designed not just for readings but for sparking conversations – with both your friends and your "higher self"!
This is a new oracle deck by Kathy Crabbe, creator of the Lefty Oracle Deck and Elfin Ally Oracle. It blends two awesome things – the Zodiac signs and goddesses!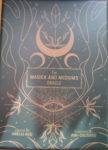 Magick and Mediums Oracle by Anielle Reid
The Magick and Mediums Oracle by Anielle Reid is modern, mystical and powerful! Join me as I go through this deck and explore the cards…see unboxing video…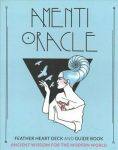 Amenti Oracle by Jennifer Sodini
Here's a deck that beautifully blends the ancient and modern. Join me as I slowly reveal the magic that is the Amenti Oracle… See unboxing video…
Oracle of the Essences by Monica "The Enchantress"
Every once in a while a deck comes along that totally takes me by surprise and makes me go oh yeah, I just know I'm going to be using this deck for years to come! Read more…

Elfin Ally Oracle by Kathy Crabbe
This deck is a delight! It has an innocent and whimsical vibe and is so easy to work with. It would make a wonderful gift, even for someone who isn't used to doing card readings…Read more…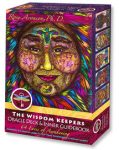 The Wisdom Keepers Oracle Deck by Rosy Aronson
Wise faces stare back at you from this 64 card deck! An empowering tool for doing shadow work and self inquiry, this colorful deck is a must for anyone serious about exploring the depths of their soul. Read more…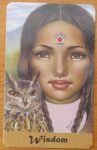 Duality Deck by Tanya Bond
Pretty girls and animals grace these and beautiful cards and will make your heart go pitter patter! When I first unwrapped my Duality Deck I was so enchanted by the youthful, fresh, feminine vibe of these cards! Read more…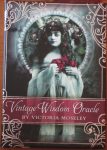 Vintage Wisdom Oracle by Victoria Moseley
This deck is feminine, mysterious and enchanting…and even your atheist, science worshiping friends will love it! Goddesses, divas and intriguing figures grace these cards, as do many owls, songbirds, butterflies and flowers. It's a delicious concoction of glamor and innocence! Read more…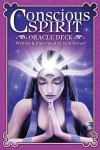 Conscious Spirit Oracle Deck by Kim Dreyer
This is a fabulous oracle deck of extreme beauty and femininity with a spiritual evolution theme. Working with these cards will open gateways, uplift your spirits and…its kind of like a non-scary magic mushroom trip…read on!
Amira's Love Oracle

It's fun to have a deck that's geared specifically toward relationship readings and I like how bright, bold and straightforward this deck is.
Vibrational Energy Oracle Cards by Debbie A. Anderson
Here is a unique, spiritual, simple to use deck that will help you put your chatter box mind to rest, get centered and get some wonderful insights. These cards are deliciously zen-like and a fabulous addition to your oracle deck collection…read on!
Ascended Masters Oracle Cards by Doreen Virtue
Like all of Doreen Virtue's oracle card decks, this deck is 100% positive and easy to use, regardless of your experience level. Unlike her other decks, this one has a more masculine vibe as it features plenty of men – some of them rather creepy looking….Read more…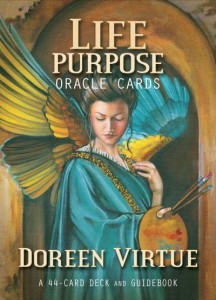 Life Purpose Oracle Cards by Doreen Virtue
These cards are wonderful for doing career and life path readings. While everyone seems to respond really well to these cards when I use them in readings, I don't love all of the cards. Read more…

Magical Mermaids and Dolphins Oracle Cards by Doreen Virtue
This is a delightful and uplifting deck and it often sits on my coffee table, looking all happy and cheery. Sometimes I use it to brainwash myself with positive messages…Read more…