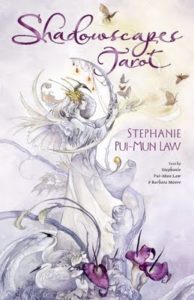 The Shadowscapes Tarot was created by fantasy artist Stephanie Pui-Mun Law and published by Llewellyn in 2010. It is a 78 card deck, based on the traditional tarot imagery and symbolism of the Rider-Waite Smith deck. This deck is an enchanting blend of motion, mood and beauty and it has become one of my top five tarot decks to read with.
Likes:
Engaging artwork – you can gaze at a card all day!
Artwork captures the energy of the card's meaning
Deck has a good feel to it – cards are the right thickness and texture
There are no "scary" cards in this deck
Dislikes:
Cards are very detailed and the images are quite small, which can make them seem "busy" and I often find myself wishing the cards were bigger!
First I must say that I have a very large collection of tarot decks and within that collection I have a smaller collection of decks that I actually use for readings on a frequent basis. This collection includes The Robin Wood Tarot, Crystal Visions Tarot, Universal Waite Tarot, Osho Zen Tarot and….Shadowscapes Tarot!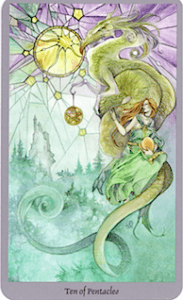 I truly enjoy using the Shadowscapes Tarot deck, particularly for doing readings with friends, because everyone always loves them – the cards have a positive vibe, are fascinating to look at and there is not a single frightening card in the whole deck.
While the artist Stephanie Law has based her deck on the Rider-Waite symbolism, her cards offer fresh interpretations of the card meanings, so that it is not just another rider-waite clone. Also, each card has a distinct feel to it, so there is never that feeling of sameness throughout all the cards. Each and every card has a unique feel and gives you the feeling that you are entering into a different world.
There is a real feeling of movement and energy in these cards. When you do a large layout, like the Celtic Cross Spread, you can clearly see how the energies are moving when you take a step back and look at the reading as a whole. I am sure you can do this with other decks too, but it seems much easier with the Shadowscapes Tarot. When I was browsing the artist's site, I came across this bit of info, which made perfect sense: "Her background of over a decade as a flamenco dancer is also evident in the movement and composition of her paintings. Every aspect of her paintings moves in a choreographed flow, and the dancers are not only those with human limbs."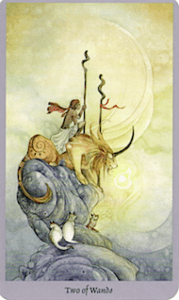 The Shadowscapes Tarot Cards are great for meditating on. The more you look at a card, the more insight you will get from it. I find this deck really useful for doing my own personal readings as you can get insights from this deck like no other. The Shadowscapes Tarot Deck has many layers and reading with it is like peeling off the layers of an onion. If you ever feel like you come up short for things to say when you are doing readings, this deck will cure that!
The feel of these cards are really quite nice. The Shadowscapes Tarot cards have a matte finish and are just the right thickness, in my opinion. They feel great to shuffle and fan out.
This deck also comes with a companion book. The book includes some basic information on how to do a tarot reading and a few different tarot spreads, but the majority of the book is dedicated to the artist's interpretations of the cards. The book is beautifully written and includes larger, black and white, blown up pictures of each tarot card, which is nice since the cards are so detailed. You have the option of just purchasing the cards without the book (note: all Amazon.com links are my affiliate links) for a few dollars less, and honestly, while the book is nice, it isn't a must-have. If you are new to Tarot and don't have many tarot books, I would say get the deck and book set, but if you already have lots of books with tarot card meanings, you can skip getting the companion book.
My only complaint with the Shadowscapes Tarot Deck is that the artwork is so detailed that it feels like the cards should be a bit larger. The cards are standard Tarot Card size, yet I feel like some of the detail is hard to see.
Buy this deck if:
You are searching for a more complex Tarot Deck
You want a gentle, yet powerful Tarot Deck
You love fantasy art!
Click here to purchase Shadowscapes Tarot on Amazon.
Do you own the Shadowscapes Tarot Deck? How do you like using it in Tarot Readings?