Disclaimer: I was given a free copy of this deck by the publisher for review purposes.


The Lost Tarot of Nostradamus by John Matthews and Wil Kinghan is a unique and historical deck that will have Tarot deck collectors practically peeing their pants with excitement. I'll tell you why in a hot minute…
Details: published by Tuttle Publishing in 2012, this deck and book set comes in a nice sturdy box. The cards are of a thick stock with a matte finish.
Likes:
Is a historical, fascinating deck that tells us a lot about the time period in which it was originally created
Has a mysterious, old world vibe
The companion book is packed with useful information about this deck!
Dislikes:
Hard to shuffle (thick cards)
Lots of popes and other religious figures on the cards
A very challenging deck to read with. Plus, roman numerals!
The coolest thing about this deck is the story behind it! In 1994, an undiscovered volume of Nostradamus' work was found. In it was the drawings for a Tarot deck that Nostradamus had been creating. The authors took those images and created The Lost Tarot of Nostradamus.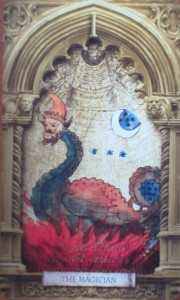 Reading with this deck really does make you feel like you are traveling back in time to the 1500's. The cards have a very old, mysterious feel to them, which makes for a really unique reading experience.
This is certainly NOT a beginners Tarot deck. I have been reading Tarot for years and I had to look up the meanings in the book for some of the cards. This was due to the fact that the imagery, card names and suits differ from the standard Rider-Waite-Smith Tarot deck and the cards have Roman numerals on them. If you're unlike me and paid attention in school and know your Roman numerals, you are one step ahead.
The companion book is awesome! It has all the information about how The Lost Tarot of Nostradamus was discovered and created, detailed explanations of each card meaning and three Tarot spreads, as well as some additional information about meditating and reading with the cards.
The card meaning section is essential because without it its hard to know what the hell is going on in half of the cards. Much of the symbolism is very different from your standard Rider-Waite-Smith Tarot deck, so don't expect to just pop this deck out of the box and begin reading with it. Take your time to get to know this deck.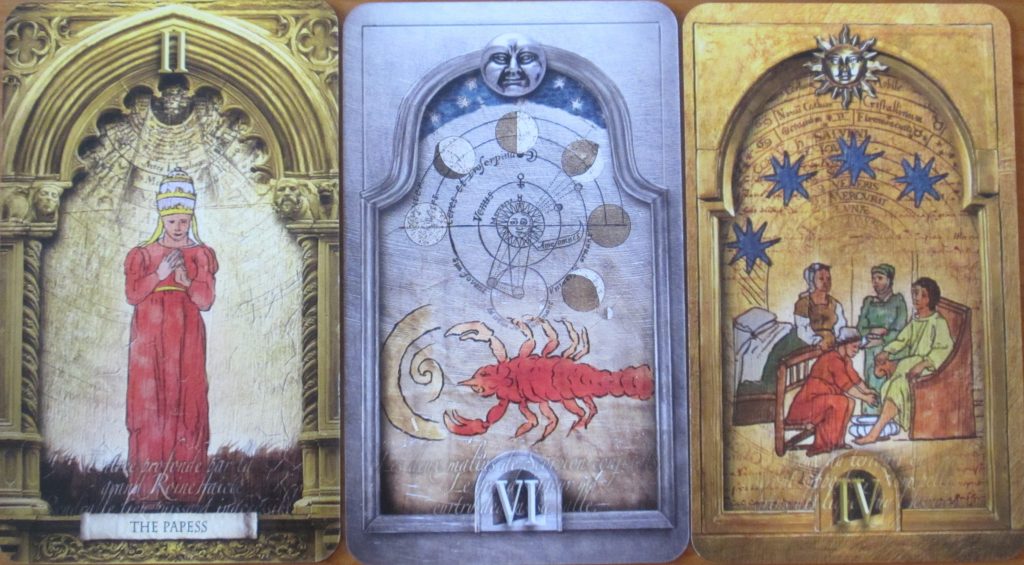 But what's really interesting is seeing how Nostradamus portrayed each Tarot card. Studying these cards has given me a new understanding of certain cards, causing me to see them in a different light.
Since the Church played a huge role in 16th century European society, this deck is packed full of popes, cardinals and religious symbols. For some reason, looking at drawings of popes puts me in a pissy mood. I am not sure why. If I had to guess I would say it stems from a past life where I was forced into religion. To be honest, most artwork from this time period kind of creeps me out. But if popes are your thing, this deck will knock your socks off!
Watch my video review of this deck…
Buy this deck if…
You are a deck collector and you want something unique and historical
You are an advanced Tarot reader who wants a challenge!
You have an interest in the works of Nostradamus
 Buying options: