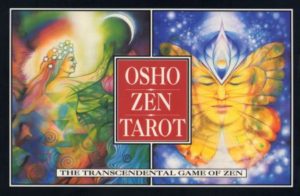 The Osho Zen Tarot is a deck of 79 cards illustrated by artist Ma Deva Padma. These cards emphasize being in the present moment and making the NOW your point of power. The cards come with a substantial companion book that explains the meaning behind each card and introduces eight different spreads.
Likes:
Deck has a nice feel to it, particularly when shuffling
Cards are a creative and spiritual interpretation of the classic Rider-Waite deck
Self explanatory cards are easy for anyone to read
Cards bring you into the present moment
Dislikes:
Roman numerals on the Major Arcana (confusing!!!)
There are a million things I love about the Osho Zen Tarot, but my favorite thing is the way they feel. The cards are sturdy enough to be durable, yet bendy enough to shuffle nicely. The finish is somewhere in between matte and glossy, so they aren't annoyingly slippery. Also, the card dimensions are perfect – cards measure 3"x 4.25" so they are slightly shorter and wider most tarot cards, making them easier to shuffle if you have dainty hands like myself.
The Osho Zen Tarot has taken the Classic themes and images of the Rider-Waite-Smith Tarot and re-imagined them from a spiritual, Zen perspective. The result is so refreshing and inspiring! Cards that often leave me feeling cold and hopeless in the Rider-Waite deck, such as the Five of Pentacles, have a real sense of possibility in the Osho Zen Tarot and it is easy to see ways breaking free from your current struggles.
The Osho Zen Tarot re-imagines the traditional tarot in a way that is positive and empowering, but without being too wishy-washy or nauseatingly upbeat. For example, The Ten of Swords is replaced by Rebirth (10 of Clouds), so instead of a guy with ten swords stuck in his back, we see a young boy rising out of a lion which is rising out of a camel. This picture makes it obvious that the card is about rising above and moving through different phases, always evolving. Its so easy to interpret this card in a way that is helpful and empowering.
A unique aspect of the Osho Zen Tarot is it's incredible ability to reveal the dysfunction of our minds and the ways in which our egos keep us prisoners – all the while making it possible to identify escape routes and solutions to our problems. For example, "Clinging to the Past" replaces the Four of Cups and the image is so clear in illustrating what this cards meaning is and what we need to do to instantly feel better.
Which brings me to another great aspect of the Osho Zen Tarot – pretty much anyone can read with these cards. Each card has one or two words on it which capture the essence of the card's meaning. So if you have been struggling to learn Tarot and find that a lot of the more traditionally structured decks, such as the Rider-Waite-Smith deck, don't resonate with you, this deck could be your saving grace.
Cards that have always stumped me in the Rider-Waite deck are crystal clear in the Osho Zen deck and I find myself thinking "oh, now it makes so much sense!"
Court cards are easier than ever to interpret and you won't ever find yourself staring blankly at the "King of Swords" thinking "what the &#%* does that mean?"
Buy this deck if:
You have struggled with learning the Rider-Waite deck
You find traditional tarot decks to be kind of scary or negative
Court cards are your nemesis!
You are more concerned with the present moment than the future
You have an interest in meditation and Zen
The Osho Zen Tarot is one of my absolute favorite decks and I use it frequently when reading for myself and for professional readings. I find that the Osho Zen Tarot inspires me to live in the NOW and to turn inward in order to understand and change what is going on outside of me. These cards just radiate wisdom. In fact, reading from this deck is like having your own enlightened Zen master sitting in your living room with you!
Click here to buy this deck through Amazon (this is my affiliate link)
Do you own the Osho Zen Tarot? Share your opinions in the comment box below!