When I first watched Doreen's promotional video for her Angel Tarot Cards on YouTube and heard her say that this deck was a "totally safe and gentle deck", I thought oh great, a tarot deck for wimps. Virtue wanted to create a tarot deck that was 100% safe and positive without sacrificing any of the depth and wisdom of traditional tarot cards, so she teamed up with tarot expert Radleigh Valentine and Artist Steve A. Roberts to create Angel Tarot Cards.
The scarier cards like Death, The Devil and The Tower have been re-imagined so that their images and messages are more uplifting. I was anxious to find out whether these cards would be a unique and useful addition to my tarot collection or just another deck that I use for bookmarks and coasters….
Likes:
Court cards are easier than ever to interpret
Card meanings are written right on the card
Artwork is appealing and interesting to study
Cards are slightly larger than a regular tarot deck
Dislikes:
The water suit is very dark in color and the mermaids are a bit spooky
Large size of deck makes it difficult to shuffle
Angel Tarot Cards remind me of oracle cards because they are slightly bigger than most tarot cards and the card's meaning is written on the bottom. This makes it a perfect deck for those not familiar with tarot – and also good for days when you are feeling lazy and can't be bothered remembering what the card meaning is!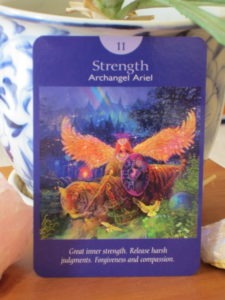 However, the larger size of the cards, combined with their thickness make it a pretty hefty deck that is not the easiest to shuffle. On the plus side, these cards are sturdy and glossy and will wear very well over time. They don't have the gold edges that many of Virtue's oracle decks have, but honestly, I don't miss it. (update: these cards now have silver lined edges)
I especially like the court cards. Just below the cards name are four characteristics of that court card. For example, the King of Earth is "generous, professional, responsible, practical" and at the bottom of the card is its meaning: "A successful time. Confidently accept opportunities you're offered. The Midas touch." I find court cards can be tricky to interpret sometimes, but having the characteristics and meaning right on the card makes it a breeze.
You can spend quite a bit of time just examining these cards, as the artwork by Steve A. Roberts is both beautiful and intriguing. Many of the cards depict life on some other planet, with multiple moons glowing in the background and magical creatures like mermaids, unicorns and dragons prancing about. Even Doreen Virtue herself shows up in the Nine of Water as a happy mermaid.
Angel Tarot Cards are unique in that they are truly uplifting and safe without being sappy and meaningless. Often, I find decks that are all rainbows and lollipops can be as infuriating and insulting as the time when everyone in my elementary class got an "A" for effort. Huh? What's the point?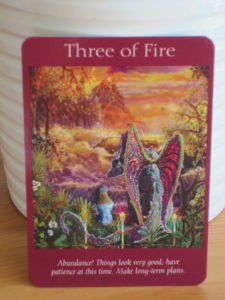 Not so with this deck. For example, Life Experience replaces The Tower and the caption on the bottom says "A significant life event. A powerful revelation that leads to change. Time to spread your wings."
So you can see how you could interpret this card in both positive and meaningful ways without scaring the crap out of your client!
Another thing I really appreciated about Angel Tarot Cards is that apart from all the angels it is a non-religious deck. Some of Doreen's other decks make reference to God and Heaven. While this doesn't bother me personally, I hesitate to use it with clients whose religious attitudes are unknown to me.
Enough gushing. Now onto my major complaint…..
I don't really love the Suit of Water. The mermaids look like corpses or ghosts on some of the cards and in a couple water cards, I can see a shark lurking in the shadowy depths. Ahhhh!
The coloring of this suit is very dark and has a foreboding feel to it, like a storm is brewing and it just gives this suit a generally cold and depressing vibe. But I will say that the water court cards are my favorite in the whole deck, particularly the Queen of Water.
Buy this deck if….
You have little or no previous knowledge of Tarot
You are an avid deck collector and want something a bit different
You find traditional tarot cards to be scary and harsh
You like angels and you are a fan of Doreen's other decks
You love gorgeous fantasy art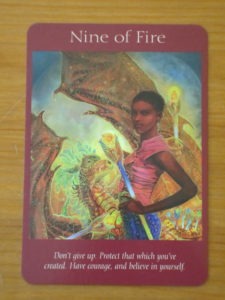 Doreen Virtue cranks out a few oracle decks each year and if you already have some of her other decks then it can feel like just another Doreen Virtue deck. However, this deck is different and even if you already have all of her other decks, you wont be disappointed in this one.
A lot of thought and creativity has been put into Angel Tarot Cards and while it is a more positive and safe re-imagining of the traditional Rider-Waite deck, it does not lose its power as a tarot deck. Angel Tarot Cards are definitely a tarot deck worth owning!
Click here to purchase this deck on Amazon (this is my affiliate link).
Life Purpose Oracle Cards by Doreen Virtue
Crystal Visions Tarot by Jennifer Galasso