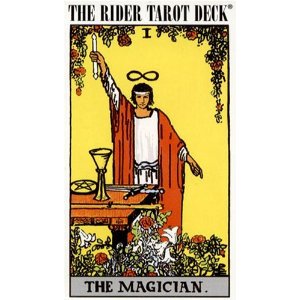 The Rider-Waite Tarot Deck is the most widely used tarot deck today and can be seen as the gold standard of tarot decks.
This deck was originally published in 1909 by William Rider & Son of London, but is now published by U.S. Games Systems, Inc.This ever-popular deck was a result of the collaboration between artist Pamela Coleman Smith and mystic Arthur Edward Waite.
The Rider-Waite Tarot Deck was groundbreaking for its time because it was the first deck to feature scenes and people on the 56 minor arcana cards. Prior to The Rider-Waite Tarot Deck, the Minor Arcana cards were very simple, illustrated with just the card's suit and its number, with only the Major Arcana depicting people on them.This deck is also called The Rider-Waite-Smith (RWS) and the Rider Deck.
Likes:
This deck is the classic, gold standard tarot deck upon which most other tarot decks are based
Pictures are simple and easy to interpret
Each card tells a story and evokes a strong feeling
Dislikes:
Colors can seem a bit garish and the artwork is very basic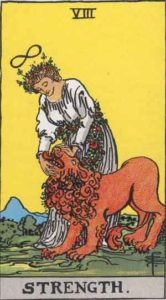 The best thing about The Rider-Waite Tarot Deck is how easy the card pictures are to interpret. Even if you know nothing about Tarot, you can look at these cards and get an idea of what they might mean.
Each card tells a story and is full of action and emotion. Getting lost in these cards comes naturally as they invite contemplation and will stimulate your imagination. I find this to be the best deck to use for creative writing exercises. I believe that even someone with severe writer's block could quite easily write dozens of pages on a single card!
The Rider-Waite Tarot Deck does a wonderful job of capturing the wide variety of human emotions, archetypes and life stages. However, the artwork is more practical than visually appealing. In other words, you wouldn't exactly hang an enlarged version of a Rider-Waite tarot card in your living room, like you might with other artist's tarot card renditions.
If prettiness is an important factor for you when choosing a tarot deck, The Rider-Waite Tarot Deck may come up short. The colors are a bit harsh and the drawings are very basic and unimpressive. However, impressing you with it's beauty isn't the aim of this deck – providing a solid, no-frills tool for divination is.
This deck's design was well thought out by mystic and academic Arthur E. Waite and it is full of symbolism and deeper meanings, making it a fascinating deck to study and contemplate. There are many different versions of this classic deck, such as the Radiant Rider-Waite, Universal Waite Tarot Deck and even the Giant Rider-Waite.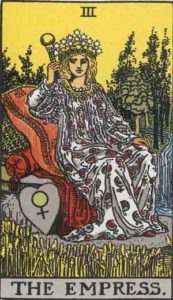 Buy this deck if:
You are a beginner to Tarot
You don't have it yet!
The Rider-Waite Tarot Deck (affiliate link) is by far the best deck to learn on and it is a must have deck for every tarot enthusiast and beginner. There are different versions of the classic Rider Waite Tarot Deck, such as the Radiant Rider-Waite, Universal Waite, Giant Rider Waite and others. If you don't yet have this deck, don't hesitate to get it – it is the quintessential tarot deck!
 Do you have this deck? Share your opinion in the comment box below!
Read more Tarot Deck Reviews…