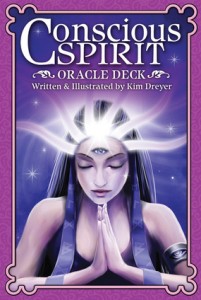 The Conscious Spirit Oracle Deck by Kim Dreyer was published by U.S. Games Systems, Inc. in 2013. It is a 44-card deck that, according to the description on the box, "was created to honor, celebrate and reconnect to Nature, Spirit and the Divine Feminine in all her forms." The deck comes with a little, 44-page guidebook that explains each card.
Likes:
Gorgeous fantasy art that radiates light
Positive, uplifting energy that is present within all the cards
Useable affirmations on each card
Dislikes:
When I first took these cards out of the box and looked through them I immediately felt happy and blissed out, like I had just inhaled some kind of pixie dust or something. These cards practically glow!
The card stock is thick enough to be durable, but not so thick that it makes the cards too brittle to shuffle. The deck felt nice in my hands and the backs of the cards are lovely. The little guidebook that comes with the cards is just your standard LWB (little white book), but it's nicely written and gives a deeper understanding of each card.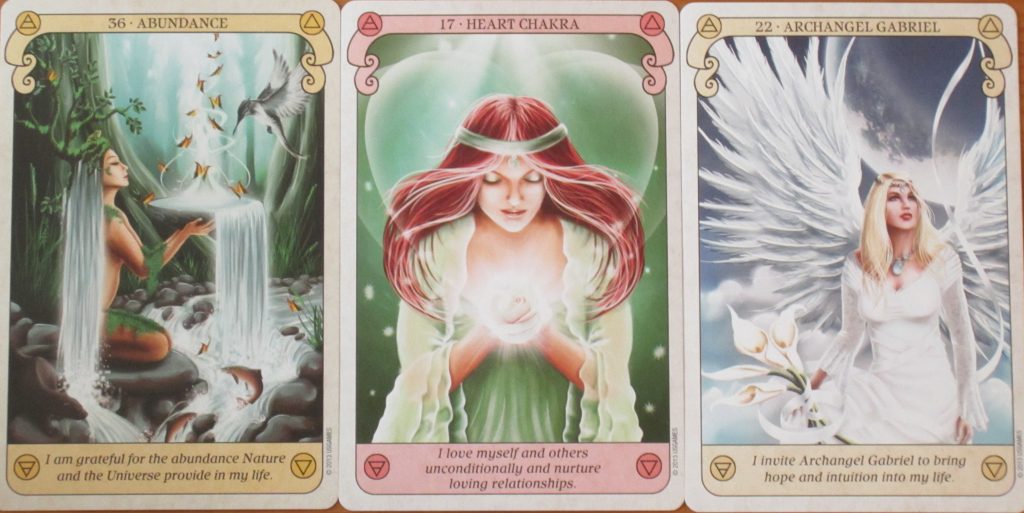 This deck is very earthy, as there are cards representing each of the four elements and the maiden, mother and crone. Yet, it has a deeply spiritual dimension as well with a card for each chakra and various archangels making an appearance. I feel like this deck beautifully merges the earthly with the spiritual and magical.
Each card features an affirmation, which makes it a good deck for doing a one card daily draw. You can draw one card in the morning and then use that affirmation throughout the day.
Best of all, each card has a distinct, unique energy that pulls you in and invites you to contemplate. Gazing at these cards, it becomes easy to jump right into the card and start dialoguing with the characters and environment….. without eating magic mushrooms!
This deck is very easy to read and work with. An absolute beginner to oracle decks will find the Conscious Spirit Oracle Deck very simple to use.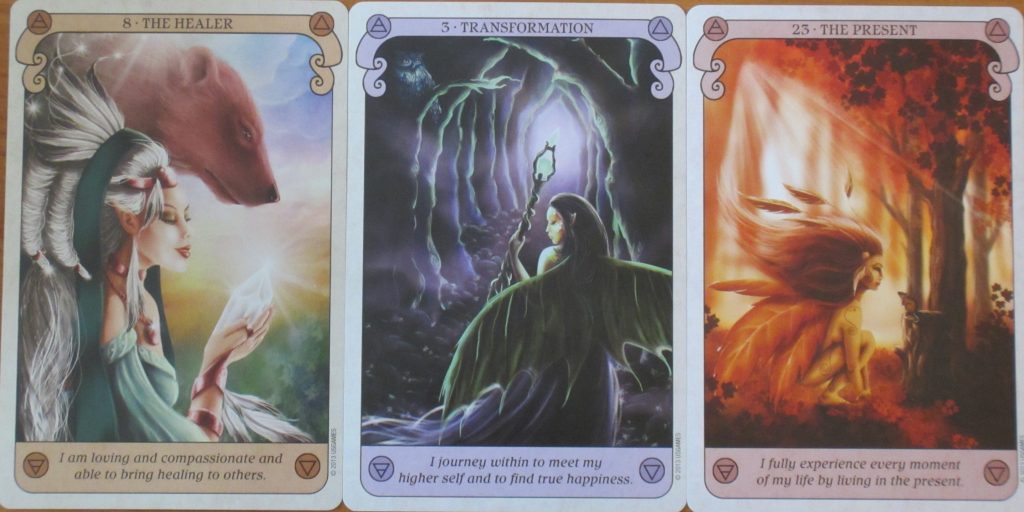 But here's the bottom line: do you really need the Conscious Spirit Oracle Deck? I have to be honest – I have a lot of oracle decks and I am starting to notice that the "spiritual, uplifting" genre of oracle decks is become a saturated market. It seems like every five minutes there is a new oracle or angel deck on the market that features pretty pictures and positive phrases.
So I was hesitant to buy the Conscious Spirit Oracle Deck, even though I loved the pictures of it online. Because after all, how many uplifting oracle decks does one really need? But when my weary mailman delivered this deck to my door (I think he is seriously starting to get creeped out by my frequent Amazon parcels and unhinged enthusiasm at his arrival), all my doubts evaporated.
This deck is special. It exudes a delicious, calming, vibrant energy. The cards invite introspection and journalling. And when I work with this deck, I no longer just feel connected to the Divine, I feel I am actually a part of the Divine – which is a truly unique experience!
Buy this deck if:
You want a spiritual, feminine, uplifting oracle deck that is easy to read and understand
You are on a "spiritual" path and want an oracle deck that reflects that
Tapping into your Divine nature is something that interests you
You love new age, fantasy art
See even more of these cards in my video review!
Buying options:
kimdreyerart.com

Amazon.com (my affiliate link)
See more reviews like this one…