The Frau Grand Duchess Tarot is an atmospheric, collage style deck created by Jen Kruch. The deck has 78 cards, based on the Rider-Waite-Smith structure and was self published in 2013.
The deck comes with a little white book and pretty, silver pentacle charm (pictured left). The book features basic card meanings, including reversed meanings and a brief description of the celtic cross spread.
Likes:
Cards have a distinct retro vibe
Bizarre images invite contemplation
Mint green borders make me squeal with glee!
 Dislikes:
Roman Numerals (why did I never learn these?!)
Cards can sometimes be a bit confusing and disorienting
When I first slid these cards out of their box, I immediately fell in love with the pretty, lacy card backs. How the card backs look is so important to me and I like how they're very light and understated.
The borders of the cards are mint green (or as my mother would say, "hospital green" because they used to paint hospital rooms that color). Anyhow, this is one of my favorite shades of green, so this little detail had me happy as a clam.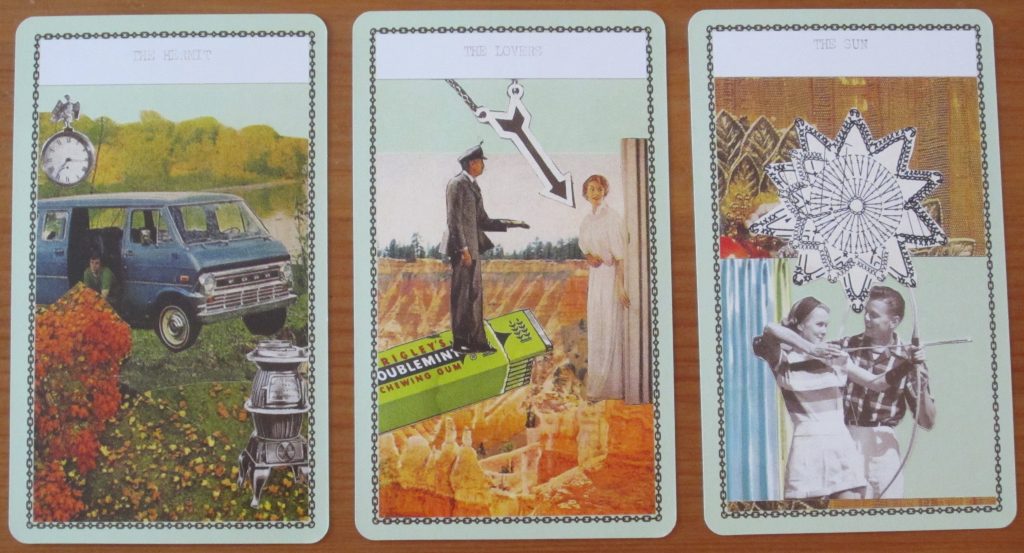 Artist Jen Kruch created these cards by cutting out images from 1950-70's magazines. Just looking at these cards brings back so many memories! Not because I was alive in that era (I was born in 1981), but because I remember looking through my grandmother's old magazines.
I distinctly remember the word "dainty" being used in ads for bras, douche bags, armpit  deodorant, you name it – daintiness was where it was at back then!
I feel the Frau Grand Duchess Tarot accurately captures the weirdness and charm of the 50's, 60's and 70's – including awful details like mustard colored washing machines and plaid couches. Love it!
But how does it read? What is it like to work with?
Sturdy, glossy card stock gives this deck a high quality feel. The cards that are just a little bit longer than most of my decks, which pose a challenge to my "dainty" hands when shuffling my usual way.
While the deck follows the typical Rider-Waite-Smith structure, the cards themselves aren't immediately recognizable. For example, when I pulled the Four of Wands (pictured below) I thought "what the hell is this supposed to mean?!"
But after some pondering and admittedly, looking up the meaning in the little white book, it made perfect sense – even the scuba diver made sense!
So this deck takes some contemplation to understand – which can be a good thing or a bad thing depending on what your in the mood for.
If you want to do a quick reading, it could be frustrating, but if you want to explore the world of the Frau Grand Duchess Tarot, these cards are wonderful for inviting meditation and reflection!
There's something about collage-style Tarot decks – they remind me of dreams. Sometimes wacky and disjointed, but fascinating nonetheless. Reading with the Frau Grand Duchess Tarot lets you step into an intriguing, odd 1960's-esque dreamworld where your imagination, memories and intuition are free to come out and play.
 Who will love this deck?
Intermediate to advanced Tarot readers, who already have a good understanding of Tarot, will enjoy the creative and fresh depictions of each card.
I wouldn't recommend this as a first deck for absolute beginners, but if you're looking for something quirky and intriguing, the Frau Grand Duchess Tarot is a delightful addition to your Tarot collection!
How to buy this deck:
Click here to purchase this deck from the artist's site