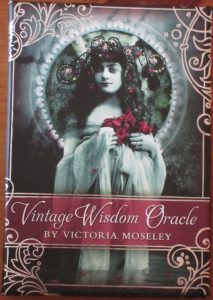 The Vintage Wisdom Oracle is a gorgeous, 52 card oracle deck, created by Victoria Moseley, who was inspired by antique postcards. This deck is full of French sepia photographs, goddesses, muses, birds, flowers and all around vintage awesomeness!
The deck comes in a super-pretty box (pictured left) with an 80 page companion book. The little book has the card meanings, some basic info on doing readings and several spreads, which were all new to me.
Likes:
The overall vintage vibe, especially all the sexy vintage ladies with butterfly wings!
Smooth matte finish
Cards are easy to interpret
Dislikes:
When I first opened my box of Vintage Wisdom Oracle cards, I immediately loved how feminine and mysterious these cards were. Goddesses, divas and intriguing figures (such as Mata Hari) grace these cards, as do many owls, songbirds, butterflies and flowers. It's a delicious concoction of glamor and innocence!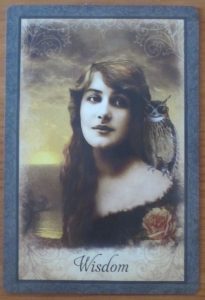 The cards have a nice, matte finish and have a good quality thickness, which makes these cards a delight to shuffle and touch.
The box these cards come in is very sturdy and quite lovely. I know some people like to wrap their decks in silk, but I like the box so much that I'm just going to leave my cards in it.
I have been using this deck for several weeks now and the thing that really strikes me is how down to earth and user friendly it is.
I have many, many decks that are "spiritual" and a bit airy fairy – meaning that they are lovely, but not always clear. But with the Vintage Wisdom Oracle, the cards are easy to understand and they make sense in the context of my everyday life. So far, I haven't had that frustrating experience where you ask a question, pull a card and think "well, what the f*ck is that supposed to mean?!" – This deck just makes sense.
Yes, this deck is "pretty", but it is certainly not shallow or fluffy! While these cards are gentle and uplifting, they are not sickeningly positive or sappy sweet. In other words, I never feel embarrassed about having this deck prominently displayed on my coffee table, even when my atheist, science worshiping friends are over 😉
When reading with this deck, I find that the images are very accessible – always inviting you to tap into and explore your intuition. I've had many "breakthrough" readings with this deck, where I suddenly figure something out or see something in a new way.
I have yet to use this deck for reading on others – I have so far just used it on myself (it feels so special, I kind of don't want to share!). But I can see myself using these cards at the end of my professional Tarot readings.
I always like to close a Tarot reading by drawing a card from one of my oracle decks – I find this is a nice, positive way to end a reading and I think the Vintage Wisdom Oracle would work perfectly for this because it will appeal to a wide variety of people. It's not an overly "spiritual" or new agey deck and there are no terrifying cards either, so it's perfect for professional readings, particularly with people I don't know very well.
All in all, the Vintage Wisdom Oracle is a very comforting deck to use and I always feel supported and uplifted after doing a reading with these cards. If you choose to add this deck to your collection, you won't be disappointed!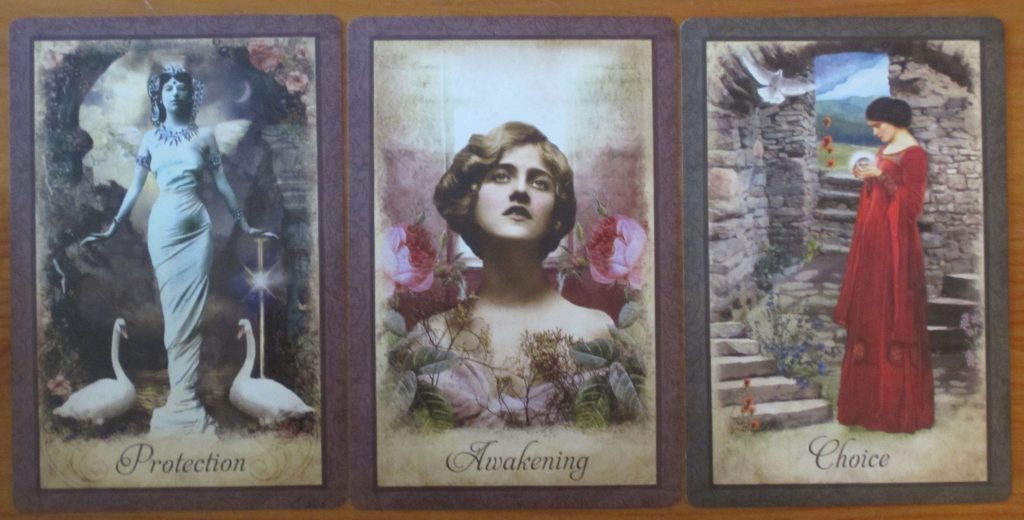 Buy this deck if…
You are new to Oracle cards and want a deck that's easy to use and understand
You give professional readings and need a deck that will appeal to a wide variety of people
You tired of all the new-agey decks out there and just want a deck that makes sense
You like vintage artwork!
To purchase the Vintage Wisdom Oracle: