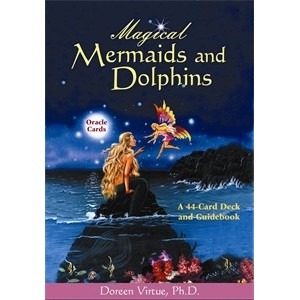 Magical Mermaids and Dolphins Oracle Cards by Doreen Virtue is a 44-card deck that comes with its own mini guidebook. Published by Hay House in 2003, it is a similar to Doreen Virtue's other oracle decks in that all the cards have positive, uplifting messages written on them. According to the box description, these cards are "designed to help you manifest your goals, life purpose and Divinely inspired dreams."
Likes:
Happy messages on every card that make me smile!
Sturdy, laminated cards that are bigger than your typical tarot deck
Different styles of artwork on each card by different artists
A very comforting deck that is great to use when you are feeling raw or anxious
Perfect deck to finish off a reading with – to end it on a positive note!
Cards help you to raise your vibration and focus on what is important
Dislikes:
Some cards seem a little cheesy or too airy-fairy
Words like "God" and "heaven" can make it a hard deck to use with the general public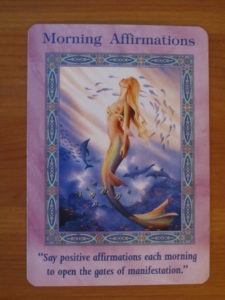 My favorite thing about Magical Mermaids and Dolphins Oracle Cards is that I cannot help but smile from ear to ear whenever I draw a card – despite being a generally pessimistic, cranky person!
Like most Doreen Virtue decks, all the pictures are so pretty and the messages so happy and encouraging that it is hard to feel sad or discouraged after doing a reading.
Anyone can use this deck – you do not need to have any knowledge of Tarot or Oracle cards in order to do a reading. Since the card's meaning is written right on the card, you could pretty much read this deck drunk, if you were so inclined.
The little guidebook that comes with the cards is actually quite good. Author Doreen Virtue offers some basic info on how to do a reading, as well as interpretations of each card and helpful suggestions and ideas.
Despite the fact that this oracle deck is just dripping with happiness and good vibes, it isn't a completely fluffy deck. Cards like Watch Your Thoughts, Make a Decision, and Time to Move On deliver straight-up advice in a gentle, empowering way.
Since the deck features artwork by several different artists, each card has a unique look and feel and seems to radiate its own energy, making it hard to remain unaffected – the positive vibes in these oracle cards are contagious!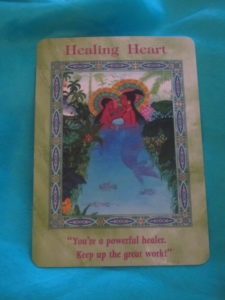 Every morning, when I am enjoying my first cup of tea, I draw a card from this deck and it always gets me off to a positive start. I recently stuck my favorite card, Ready, Set, Go! on my vision board, as well as some other cards from this deck.
I often use this oracle deck to wrap up a professional tarot reading, as a way to end things on a positive note. So there are many ways you can use the Magical Mermaids and Dolphins Oracle Cards and since they are sturdy, laminated cards, they hold up very well.
Now for my complaints….Some of the cards are a bit silly and feel a bit too light and fluffy. For example, the Friendship card says "make a date for a play day with one or more friends." So I would recommend avoiding these cards if you prefer a more serious, grown up deck as there is a definite sense of childlike wonder and playfulness here.
Also, a couple of the cards, as well as the guidebook, mention "God" and "Heaven", which didn't bother me at all, but it could be an issue for some people who prefer a strictly non-religious deck.
Buy this deck if…
You are looking for a deck for those emotionally fragile days
You have no knowledge of Tarot cards
If you resonate with dolphins and mermaids
You want a deck that will inspire and uplift on a daily basis
You are looking for a gentle, playful deck that makes it easy to connect with your guides and angels
To summarize, this is my #1 favorite oracle card deck, and it often sits on my coffee table, looking all happy and cheery. Sometimes when I use it I feel like I'm brainwashing myself with positive messages – but I'm hoping that's a good thing! Best of all, Magical Mermaids and Dolphins Oracle Cards by Doreen Virtue truly does have a magical feel to it and it never fails to lift your spirits and restore your enthusiasm for living life and achieving your dreams.
Click here to purchase on Amazon.com
Do you own this deck? Share your opinions in the comment box below!