The Ascended Masters Oracle Cards by Doreen Virtue is a 44 card oracle deck that features an "ascended master" on each card. It comes with a mini booklet containing the card meanings and some additional information about doing oracle card readings. Like all of Doreen Virtue's oracle card decks, this deck is 100% positive and uplifting and easy to use, regardless of your experience level. Unlike her other decks, this one has a more masculine vibe as it features plenty of men.
Likes:
Cards have a spiritual, high-vibrational energy to them
Messages from these cards are clear and easy to grasp
Most cards are very attractive
Dislikes:
Some of the men in this deck are creepy looking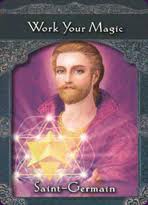 When I first looked through my Ascended Masters Oracle Cards, the first thing I noticed was the abundance of creepy looking guys! They are everywhere! With their glassy gazes and weird little mustaches, many of these "saints" look like someone I would expect to see quietly lurking on my jogging trail or exposing themselves in a public park. Maybe that's a bit harsh, but that's what comes to mind when I see these cards.
The majority of the cards are actually quite gorgeous – stunningly so. Which makes up for the unsettling presence of the sleazy looking religious dudes. Some of my favorite oracle cards are in this deck. Not all of the male cards are awful – some are lovely and there are plenty of female ascended masters in this deck as well.
I have several of Doreen Virtue's oracle card decks (I am a big fan of them!) and most of them have a soft, feminine energy to them with an abundance of goddesses and feminine angels. This deck is different in that respect and Doreen Virtue has said that her intention with this deck was to make it more masculine than her other decks. Personally, I don't think it works well here.
Despite all of this, the Ascended Masters Oracle Cards have grown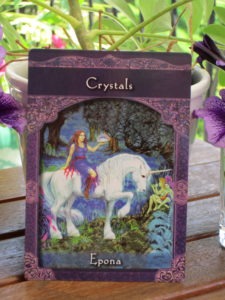 on me. This deck certainly has its own energy and I get a feeling of spiritual connection and upliftment every time I work with this deck. The cards are super easy to read and doing readings with this deck is almost like having a conversation with a high level being from another dimension! I have found these cards to be quite specific and in most cases, very accurate.
I enjoy working with this deck, but it isn't my favorite Doreen Virtue deck (The Magical Mermaids and Dolphins Deck is!) I don't feel like this is one of those decks you have to rush out and buy, unless the card images really speak to you.
Buy this deck if…
You are fascinated by the "Ascended Masters"
You are new to card reading (this deck is great for beginners)
The card images resonate with you
You enjoy positive, spiritually uplifting card decks
Click here to purchase these cards from Amazon (this is my affiliate link)
You may also like:
Life Purpose Oracle Cards Review
Angel Tarot Cards Review
Read more Oracle and Tarot deck reviews….