What is Intuition? How do you access it? And most importantly….how do you use your intuition to read tarot cards?
I get asked these three questions a lot!
There is more to learning how to read tarot cards than just memorizing endless tarot card meanings – it is also about learning how to develop your intuition and calming the mind so that your intuitive insights have a chance to shine.
The video below is a mini lesson in how to access your intuition and use it to interpret a tarot card.

Intuition is your gut feeling, that old, wise part of yourself that can tap into invisible energies and let you know what you need to do at any given time.
Intuition is very different from the intellect (or mind). While your mind is good at observing what is going on in the physical realm and interpreting this information, intuition senses and feels the surrounding energy and communicates this information back to you in the form of physical sensations (gut feelings) and hunches.
Mind and intuition can be in harmony or in conflict. For example, you may meet someone who looks nice, is well mannered and is kind to you and yet you instantly dislike and distrust them. When you have a strong gut reaction to a person but have not observed anything to support your feelings, it can feel uncomfortable. Your mind may list all the reasons why this person is trustworthy – they are married with children, they have a good job and have done nothing to make you distrust them. And yet….you still feel uneasy around them.
Intuition is something we are all born with and as young children, we were able to trust our intuition completely. However, we were quickly trained to disregard it and by the time we are adults, we often let our minds overrule our intuition. Because of this, the voice of our intuition gets quieter and harder to hear.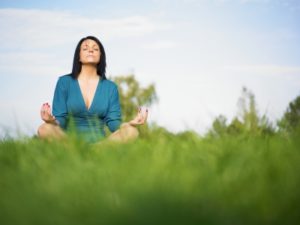 Blocks to Intuition:
Thinking/The Mind
Cultural training to disregard our feelings
Fear, worry
Desires, expectations
Judgments, assumptions
How to Develop Your Intuition:

By quieting your mind and connecting with your breath and body, you will create a space for your intuition and allow for its soft voice to be heard. The best way to do this is through regular meditation.
Intuition Development Meditation
Step One: Find a quiet place where you will not be disturbed for a few minutes (preferably a zen inspired garden with chirping birds and a babbling brook).
Step Two: Sit upright in a chair with your feet flat on the floor and hands resting in your lap.
Step Three: Make peace with your mind! Your mind isn't the problem, its just that it has been running the show for so long. Thank your mind for doing such a great job all these years and kindly request that it pipe down just for the next few minutes. It can resume its incessant ramblings later…
Step Four: Set your intention for the meditation. Let your intuition know that you are here, present and willing to listen to it without judgment.
Step Five: Focus on your breath for the next minute or so. Don't try to change your breath – just observe.
Step Six: Notice how your body feels. If you are tense or your mind is still active, try using the exhales to breathe out the thoughts and tension.
Step Seven: Just sit quietly for a couple of minutes and notice if anything comes to you – any physical feelings, ideas or insights.
Once you are finished the meditation, you may wish to draw a tarot card and spend a few moments observing it. What feelings come up for you when you gaze at the card? If your higher self or spirit guides are using this card to send you a message right now, what is the message?
Learning how to develop your intuition is basically about learning how to get rid of all the things that block the natural process of intuition and then learning to trust the information you receive via your intuition.