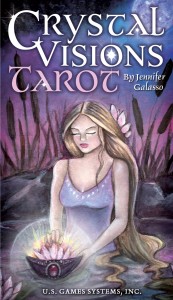 The Crystal Visions Tarot, created by fantasy artist Jennifer Galasso, was published by U.S. Games Systems, Inc in late October 2011. It is a 79 card deck, based on the traditional tarot imagery and symbolism of the Rider-Waite Smith deck. It contains all the traditional Major and Minor arcana and one extra card – The Unknown Card – a very mysterious and intriguing card!
Likes:
Beautiful artwork that gives the deck a positive, magical vibe
The cards seem to speak directly to you!
Each suit has its own color theme and unique feel
The artwork on the cards allows you to access your intuition with ease
Back design is lovely
Dislikes:
Sturdy, slippery cards make it tricky to shuffle
Lack of nudity
When I first looked through my Crystal Visions Tarot deck, I was struck by the enchanting, feminine quality of the artwork. Rich colors and exciting characters abound in this deck! Expect to see plenty of mystical dragons, crystal balls, friendly lions, butterflies, angels and fairies.
This is a deck that seems to speak to you right away, almost as if it is an entity in its own right. It has the voice of a wise and gentle friend, offering encouragement, guidance and secrets to help you along your path. You just feel good when you look through this deck!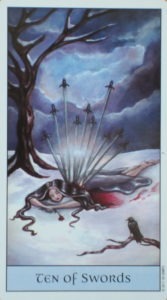 However, artist Jennifer Galasso didn't wimp out when it came to designing the more negative cards. The suit of swords has that requisite desolate feeling, as it should and cards like the Ten of Swords, The Tower and Three of Swords all exude a tumultuous and devastating feel. And yet…..
There seems to be a refreshing sense of hope even in the darker, traditionally more frightening cards. For example, the crow looking down at the bloody figure with ten swords stuck in her back seems to be thinking "stop being such a ninny! Things aren't so bad. You are your own worst enemy here!" In other words, it is easy to bring a positive, empowering interpretation to these cards.
Each card suit has its own coloring and unique vibe. For example, the Suit of Cups has a pinkish-purple glow to it with a calm, delicate feel. There are plenty of water lilies, ponds and moons scattered throughout the fourteen cards in the Suit of Cups.
The Suit of Wands is a fiery orange-red with a warm, fired up feel to it. Lions, torches and dragons feature prominently. This is my favorite suit!!!
The Suit of Pentacles is vibrant and alive, bursting with fresh green trees against a glowing, succulent peach hued backdrop. Crystals, gemstones and ripe fruit appear throughout this suit.
The Suit of Swords is cold, tumultuous and tragic with its icy blues, chilly grays and deep purples. Snow covers the ground and black crows fly and land here and there, giving the suit an ominous feel.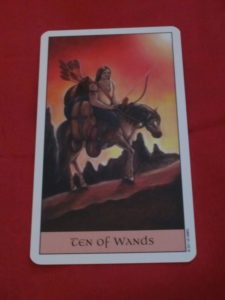 What I like best about this deck, and what makes it very unique is how the cards subtly lead you to explore the subconscious and activate your innate intuition. Some of the cards, particularly in the Suit of Wands, feature dark, shadowy areas that when gazed into, allow intuitive information and guidance to reveal itself to you. This is my personal experience with this deck and it may not work this way for everyone.However, I found that looking into the dark areas of the card really helped me to create a space in my mind for ideas, inspiration and guidance to come through.
The only real complaint I have about this deck is that the sturdy and glossy card stock make it annoying to shuffle! I prefer a matte finish and more pliable, bendy cards. On the plus side, having strong, durable card stock will ensure that the deck is long lasting and can withhold a bit of abuse. Also, the glossy finish will be easy to wipe clean if someone with grimy hands happens to handle your deck!
Perhaps I am just a Tarot pervert, but I enjoy gratuitous nudity in my Tarot decks! The Crystal Visions Tarot is seriously lacking in this department, with the exception of The Devil, which features a nude woman eating an apple. This makes it a good deck to use with your prudish friends and clients who may get all snickery at the sight of a mermaid's boob!
Buy this deck if:
You are still looking for that "special" deck
You are a beginner to Tarot
You are a seasoned tarot reader or deck collector who loves gorgeous fantasy art
You are looking for a deck with both gentleness and depth
Crystal Visions Tarot is one of those special decks that only come along once in a while. Right out of the box, this deck radiated personality, energy and magic – making me feel instantly connected with it. I feel lucky to own such an extraordinary deck that will not just become part of my collection, but will become my main reading deck.
Click here to purchase Crystal Visions Tarot through Amazon (affiliate link).