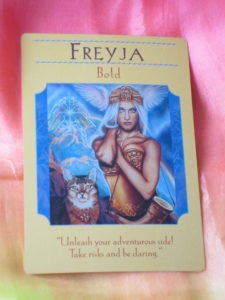 The card for today is Freyja and she comes from the Goddess Guidance Oracle Cards. Her message is to "unleash your adventurous side! Take risks and be daring."
If you normally like to play it safe and stick to the tired and true, challenge yourself to step outside your comfort zone and take a risk today. Do something that you have been too scared to do in the past, but always wanted to!
Today is the perfect day to tune into the energy of Freyja and find that bold, saucy aspect in your own personality. Make your own rules today! Live life on your own terms and don't let anyone push you around. Like the card says, be adventurous! Try something new or adopt a brave, fearless perspective on life.
Today your life is uncharted territory just waiting to be explored!