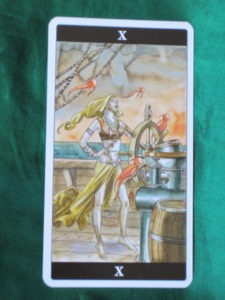 The tarot card for today is The Wheel of Fortune and it's main message is that you are the captain of your own ship. Life is an adventure and you can decide what areas you would like to explore.
Take on an adventurous spirit today and try something just for the fun of it. Do something you have wanted to do for a while, but have been hesitating. Stop worrying about what others will think!
Part of being the captain of your own ship means that at times you will feel all alone on your journey. Some of your major life decisions may be unpopular with family and friends, but it is important to be true to your self and listen intently to the voice of your soul.
Staying centered is an important aspect of The Wheel of Fortune. Your day (and your life) will have it's ups and downs, but the more you detach from expecting a particular outcome, the freer you will be.