One question I am often asked is: "what makes a good Tarot reading?"
I have been thinking back to all of the readings I have had – Tarot, palm, psychic, tea leaf, Angel Card and Akashic Soul Reading – to pinpoint what exactly made me enjoy these readings. What I found was that it was impossible to define the elements of a great reading without first pinpointing what makes a bad reading.
The worst reading I ever had was a Tarot reading at a high school graduation party from an overly dramatic "gothic" lady, while the best reading I ever had was an Akashic Record Reading by my friend Nahanni.
Let me give you the dirty details…
When I was 17 years old, I got my first Tarot reading and quite frankly it scared the crap out of me! Looking back, the reader couldn't have been older than 24 – fully decked out in Gothic garb with black lipstick and a cheesy Halloween wig.  I wasn't sure if this was her usual look or her "Tarot" look.
I don't think she said one positive thing to me during the whole reading! She kept gasping and shaking her head as she turned the cards over and saying things like "oh you've got The Devil – beware of turning into an alcoholic." When I asked about a romantic relationship, she had nothing but dire warnings for me.
She gave no positive suggestions or encouragement – only warnings of impending doom and disaster. I left the reading feeling quite hopeless and uninspired.
In stark contrast to that long-ago experience, was the Akashic Record reading I had this Summer.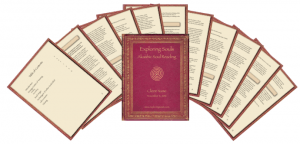 This July I was lucky enough to get a reading with Nahanni Faith – an amazing reader who gives Divine Being Soul Portraits (also called Akashic Record Readings) Spirit Guide Profile Readings, Divine Self-love Readings and Oracle & Tarot Readings. I had heard of the Akashic Records, but I really didn't know what to expect from the reading. (Update: Nahanni no longer offers these readings)
The reading really blew my mind and it left me feeling a combination of calm, excited, focused and supported. From that experience I was able to identify three key elements of a great reading:
1) Connection
A good reading results when the reader is connected to the energy of the person they are reading. When you are getting a reading, you know this connection is strong if what is being said makes sense to you – or resonates deeply with you.
When you are giving a reading, make sure you take the time to connect first to your own intuition before connecting to the energy of the person you are reading.
2) Feeling Supported
It's a wonderful feeling when you come away from a reading knowing that you have plenty of resources, strengths and support. Readers who identify their clients key strengths and illuminate support systems (such as spirit guides, journalling or support groups) that can be drawn upon for guidance and healing, are truly helping the people they read for. When inner and outer resources are revealed, empowerment emerges!
When you are giving a reading, its helpful to shed light on your clients natural talents and abilities that will assist them the most. For example, the Queen of Swords may indicate that your client can draw upon her clear, sharp mind and powerful communication skills to get her through a current rough patch.
3) Hope and Excitement About the Future
Every great reading I have had has ended with me feeling more enthusiastic and positive about my future. This feeling only arises when I feel the reader has connected to me and has unearthed my innate strengths and resources.
This has nothing to do with predicting the future or being told that everything is going to work out wonderfully. Its all about having your present reality illuminated in such a way that you no longer feel worried about what is to come. When you know how to help yourself (tap into support systems) and stand in your power (emphasize your natural skills), fear dissolves.
I want to hear from you now – what do you think makes a great reading? Feel free to share your wonderful (and horrible) reading experiences in the Reply box below!