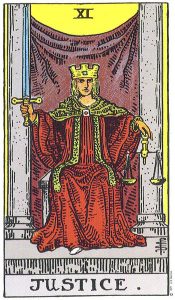 Justice Tarot Card Meaning: Fairness, equality and balance.
Lady Justice is the symbol for divine judgement and the importance of understanding both sides of an issue before making a decision.
The Justice Tarot card meaning reminds us that we are always responsible for our actions, words and thoughts, as it is these very things that will shape our experience of life. She encourages us to think carefully about what we project out into our world as the law of cause and effect will always prevail.
The Justice Tarot Card rules the areas of ethics, legal systems, karma, right action, accountability and impartial judgement.

When:
You are struggling to make connections between life events
You are in negotiations or dealing with legal affairs
Equality and balance are powerful themes in your life right now
Inquiry:
Are you being unbiased in this situation?
Are you treating yourself fairly? Are you treating others the way that you would like to be treated?
How has your past actions and beliefs shaped your present reality?
Action:
If struggling to make a decision, make a list of pros and cons
Make a thorough inventory of what your current thoughts, beliefs and actions were from this morning to now. This creates awareness of the energy you are projecting.
Notice where in your life you could be more unbiased and fair
My favorite Tarot card meanings books:
Learning the Tarot by Joan Bunning
A Magical Course in Tarot by Michele Morgan