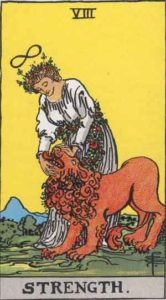 Strength Tarot Card Meaning: patience, right use of power, conquering fear

The Strength Tarot card challenges our typical notions of power and "strength" as it depicts a fair maiden gently taming a wild beast. Instead of working against the current, she works with it, showing that strength and wisdom are intimately intertwined.
Wisdom, right use of power and fearlessness are all themes of Strength. The lion in this card represents the beast within us, our dark and wild side. If we fear, reject and try to control this part of ourselves with brute force and violent suppression, it can become unruly and threaten to destroy us.
When we have compassion and understanding for ourselves, we are able to become integrated and whole,  strong and powerful. This Strength Tarot card meaning indicates a wise kind of power – one that does not seek power over others, but the power to explore and unconditionally love one's whole self.
When:
You are faced with a challenge
It is time to call upon your inner strengths
You are seeking to come to some kind of agreement
Inquiry:
Think back to a difficult time in your life – what inner strengths did you use to get you through it?
What are your hidden qualities that you reject or dislike?
What has been your experience of power? Is it something you fear, loathe, enjoy or crave? How has your experience of power shaped your life?
Action:
Make peace with your "shadow self": take notes on your hidden, unlikeable qualities and then find a way to bring acceptance and love to these parts of yourself
Let go of any desire to have power over others and focus on developing your inner power to unconditionally love all aspects of yourself
Take a firm, yet gentle approach in your communications with others and show compassion and understanding for the other's viewpoint