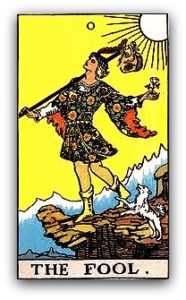 Meaning: New Beginnings, Optimism, Trust
The Fool is a journeyer of life, who sets out on his grand adventure without a map, trusting that life will lead him in right direction and everything will turn out splendidly! He represents the adventurous, joyful and carefree spirit within all of us.
Remember that person who used to work in your office who suddenly up and quit one day to go travel or start is own business teaching surfing? You resent him. How dare he!? Who does he think he is?
The Fool can be a bit naïve. For example, he is the dude who gets all fired up about some bizarre business venture and puts all of his life savings and energy into it. He may turn out to be a millionaire or a broke hobo, but he will always trust his instincts, follow his heart and live each day joyfully.

When
You are about to begin a new life phase, project, job, adventure
You know where you want to go, but don't know how to get there
You are heading into something with blind optimism (which could either help or hinder you)
Inquiry
Imagine what your life would be like with the absence of fear – what would it be like to be free to pursue your dreams?
Where in your life are you like The Fool?
How do you feel about people who embody The Fool – do they irritate you? Inspire you?
Action
Take a leap of faith! Focus on the NOW and don't worry so much about HOW to get to where you want to be.
Align yourself with the bright eyed and bushy-tailed aspect of The Fool
Be optimistic and do your research before making any big decisions