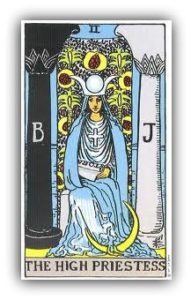 Tarot Card Meaning: Inaction, Going Within, The Subconscious
The High Priestess tarot card is one of the more mystifying cards of the Major Arcana, full of secrets and mysteries as she beckons you to explore the unknown depths of your soul. We all have a rich, deep, dark inner landscape which we call the subconscious and unconscious and it is through the exploration of these levels of consciousness that we find solutions, insights and inspiration.
Our dreams are a rich source of insights into ourselves, as is meditation, hypnosis and guided meditative journeying. All of these things are appropriate for you to explore at this time. Listening to your body is also a valuable skill as our intuition is often felt in the form of physical feelings or symptoms. By listening to the body we can reconnect with that old, wise part of ourselves that can guide us toward the best decision or action.
Sometimes we unconsciously try to shut off our intuitive side by grasping for petty distractions like watching TV, surfing the internet, texting and "keeping busy". The High Priestess is here to calm your fears of this inner voice and let you know that there is a whole other world that you can tap into and benefit from.
When
Your inner voice of wisdom is trying to tell you something
It is time to quiet your mind and go within
A meditative, passive approach is needed
Inquiry
Are you often looking for distractions so you can avoid silence or stillness?
What is your intuition (or body) trying to tell you?
What advice does the eternal, ancient, wise part of yourself have for you?
Action
Keep a dream journal and record your dreams
Go on a guided meditative journey to meet your higher self or spirit guide
Find a dark, quiet place to meditate for at least 10 minutes