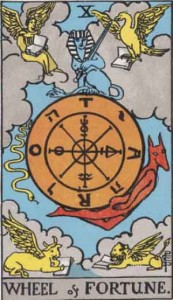 The Wheel of Fortune Tarot card meaning: Cycles, change, ups and downs of life, good luck.
The Wheel of Fortune reminds you that life is constantly in flux. The world turns around and around and similarly, we too go through phases and cycles so that there are times of plenty and joy and times of scarcity and sadness.
The Wheel of Fortune typically represents circumstances in the physical, outer world (as opposed to the inner, spiritual world). The wisdom of this Tarot card is not to base your happiness solely on outer circumstances. The Wheel of Fortune Tarot card challenges you to go deeper. The more centered you are on this wheel, the less effected you will be by life changes.
 The Wheel of Fortune often foretells a stroke of luck, appearing when things are on the upswing. Yet it encourages you to get centered within yourself and detach from the worldly drama and desire for material objects and social status, so that you do not feel pulled in all directions as you move through life. This is when true wisdom and joy arise.
When:
There is a turn of events in your life and luck is on your side!
Things are changing and shifting and you are feeling excited, yet stressed
It is important for you to stay true to yourself and not get lost in life's dramas
Inquiry:
What does being "centered" mean to you? How can you do this?
What stage of the wheel are you in right now?
How can you make the most of this time?
Action:
Make a note of the things that tend to pull you out of yourself (anything that makes you feel anxiety, fear, anger, distraction)
Practice breathing and grounding exercises to stay calm and centered
Take a risk! Luck is on your side.