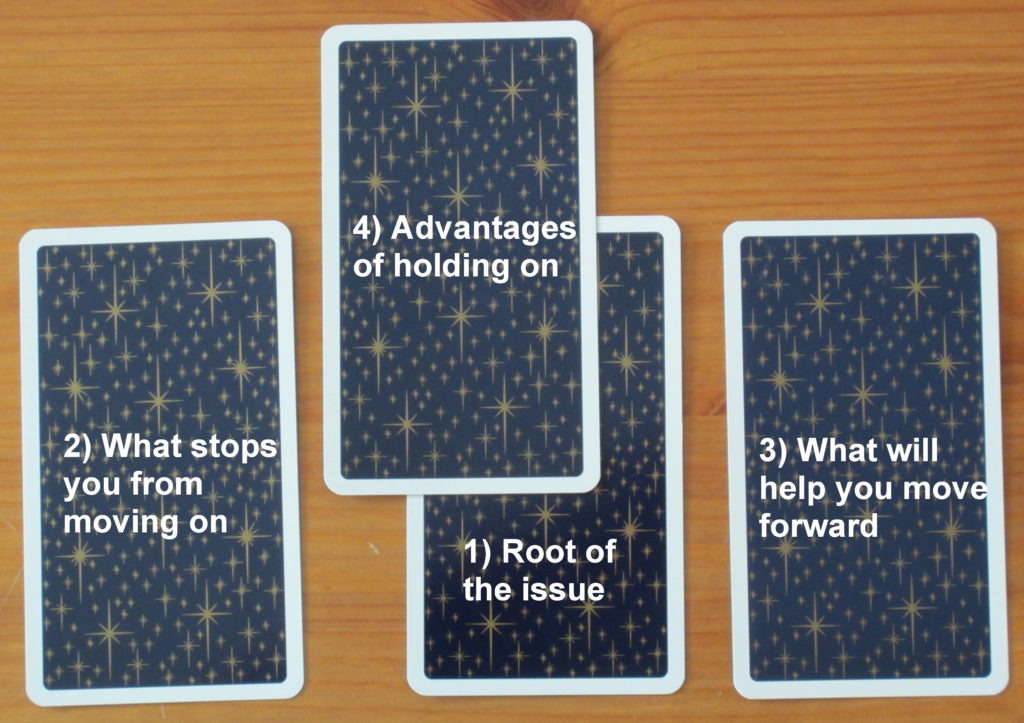 This Tarot Card Spread is designed to give you insight into why you are still holding onto the past and how to move on.
1) Root of the issue
What area of your life this issue stems from and affects most profoundly
The effect this is having in your life right now
How you feel about this particular issue
2) What stops you from moving on
Why you have had such a hard time letting go of the past
The reasons you give yourself for holding onto the past
What needs to be released in order to move on
3) What will help you move forward
How to move on and let go of the past
What you need to do in order to move forward
Attitude or perspective that will help you move on
4) Advantages of holding on
What are you getting out of holding onto the past?
What is underneath your attachment to the past
The advantages and benefits you gain from refusing to let go
It is very difficult to move forward in our lives if we have our energy all wrapped up in the past – whether its an ex-lover, a past mistake, a betrayal or the alluring fantasy of what could have been – the sooner you set yourself free from the past, the sooner you can begin enjoying your life NOW! Once you learn how to move on, you will never look back again.
Here is a reading I did for a friend, using this Tarot Spread:
Did you try this Tarot Spread out? Leave a comment to share your experience!