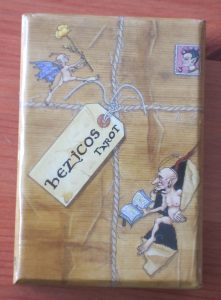 The Hezicos Tarot is a unique, special and whimsical Tarot deck created by artist Mary Griffin. The deck has 78 cards and is based on the Rider-Waite-Smith deck structure.
The deck comes in a delightful box (pictured left) with a little companion book. The little book features all the card meanings alongside full colour images of each card. Also included in the book is 3 Tarot spreads.
Likes:
Borderless cards! Yes!!!
These cards emit a special, uplifting energy
Cards are easy to interpret
Dislikes:
When I first unwrapped the Hezicos Tarot and took the cards out of the box, I was delighted at just how special these cards are! They seem to emit a lovely, magical energy that instantly puts me in a playful, contemplative mood – a perfect mood for reading Tarot!
The cards a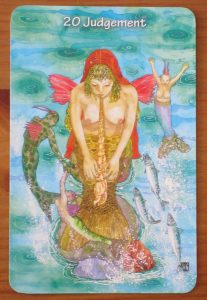 re the perfect size – wide enough to really showcase the beautiful artwork, but just short enough to shuffle comfortably (I have little hands). The cards have a nice, matte finish and are a decent thickness – overall, the Hezicos Tarot has a really good feel.
These cards are borderless, which I LOVE – there is something about the lack of a border that triggers my intuitive, creative side and very few decks have this. Sometimes I will trim my cards just to get rid of the f**king borders!
While I was doing my first look through of the deck, an interesting thing happened. I finally "got" certain cards. Even though I have been reading for years, there has always been a few cards that I never really, truly understood. For example, The Hierophant. But when I saw The Hierophant in the Herzico's Tarot I thought oh, okay, I think I get it now. It's hard to describe, but I am sure you know that feeling of finally understanding the true meaning of a card – it's a wonderful aha! moment!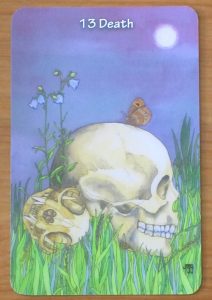 The Herzicos Tarot is a very readable deck. Most cards are very easy to interpret and because this deck sticks closely to the Rider-Waite-Smith deck, beginners will have an easy time with it. But having said that, if your a seasoned Tarot reader and your getting bored with all the Rider-Waite clones on the market, this deck is a breath of fresh air. Yes, it sticks to traditional imagery, but the illustrations are such that they invite deeper contemplation and understanding.
Now, let me tell you about the Court Cards. The Courts are interesting. Each Card shows just the head of the Court character and there are very few details. This can be tough to interpret, especially if you are a little shaky on your Court cards anyway. However, the Courts have such strong personality to them that they practically leap off the card!

When I did my first reading for my YouTube channel using this deck, I got two court cards in a 3 card reading and I thought Oh, sh*t! because they are a bit sparse, symbol wise. However, when I really looked at them they seemed to speak directly to me – kind of in a bossy way! And I found them surprisingly easy to read. However, I think if I was new to Tarot I may have struggled a bit.
Again, I can't tell you how much I love the artwork on these cards. Whimsical, bright and joyful, the Hezicos Tarot invites pure, playful contemplation. Gazing at these cards puts me in the right frame of mind to do a reading – calm, open, fearless and inquisitive.
Each card seems to tell a story and when I look at the figures I get a real sense of their history – their personality, thoughts, dreams, etc. So if you are a writer looking for inspiration or if you just really love to incorporate a narrative into your readings, this deck makes it very easy.
Buy this deck if…
You are a Tarot beginner looking for a deck to learn on
You are looking for a special, whimsical deck to add to your collection
You have trouble letting go and accessing your intuition during a reading
UPDATE: Unfortunately, this deck is no longer in print and is unavailable.