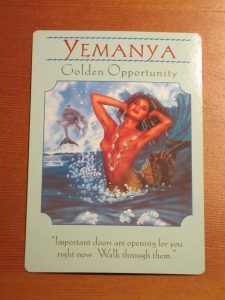 Yemanya is our Friday Goddess! She represents a golden opportunity that is being offered to you. Her message is: "Important doors are opening for you right now. Walk through them."
Exciting opportunities are just around the corner, so stay open minded. If you have felt stuck lately, things are definitely shifting. If you have felt indecisive, soon things will be crystal clear.
Spending time by the water will bring you clarity on a particular issue today – but if you don't live near water, go to an indoor pool and do some laps – the rhythmic motion of swimming will unlock the solution center in your brain.
On a side note, I want to share an interview I recently did.  The beautiful and talented Yoga Goddess Jenny Ravikumar was kind enough to interview me for her blog. Check it out!