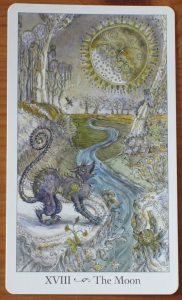 The Moon is so full of mystery, raw lust and unconscious power that at times it can be frightening to behold. It represents that part of yourself that is pure animal, wild and free.
Things are not as they seem today, but don't waste your time trying to figure it all out. Unconscious motives are at play when it comes to relationships at work and at home and its wise to remember that people aren't as civilized as they appear!
Be aware that what you desire and feel drawn to has to do with survival instincts more than anything else. Pay special attention to your dreams right now and write them down if you can remember them upon waking.
Question: When you look at this card, what are you drawn to first? What does that symbol mean to you? Post it in the comments below!