Q: I have an Osho Zen Tarot card deck that I'm still getting to know and understand. I was trying to match up the Major Arcana cards with the traditional tarot deck (Rider-Waite) and I'm not sure which is which.
~ Carla
A: Even though the Osho Zen Tarot is based on the Rider-Waite Tarot deck, most of the Major Arcana card names differ. Because the Osho Zen Tarot is a creative reinterpretation of the Rider-Waite Tarot, it isn't always clear which Osho card corresponds to which Rider-Waite-Smith Tarot card. The Osho Zen Tarot usually comes with a book that makes it all quite clear, but if you don't have the book, its easy to get lost!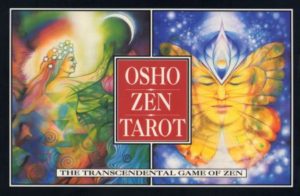 Below I have matched up the Osho Zen Tarot cards to their Traditional Rider-Waite Major Arcana counterparts (Osho cards are in bold):
0 Fool – The Fool
1 The Magician – Existence
2 The High Priestess – Inner Voice
3 The Empress – Creativity
4 The Emperor – The Rebel
5 The Heirophant – No-Thingness
6 The Lovers – The Lovers
7 The Chariot – Awareness
8 Strength – Courage
9 The Hermit – Aloneness
10 The Wheel of Fortune – Change
11 Justice – Breakthrough
12 The Hanged Man – New Vision
13 Death – Transformation
14 Temperance – Integration
15 The Devil – Conditioning
16 The Tower – Thunderbolt
17 The Star – Silence
18 The Moon – Past Lives
19 The Sun – Innocence
20 Judgement – Beyond Illusion
21 The World – Completion
The Master (This is just an extra Osho Zen Tarot card that is unique to this deck – there is no Rider-Waite equivalent)
Minor Arcana
Each Minor Arcana suit in the Osho Zen Tarot is represented by a different element
Pentacles – Rainbows
Swords – Air (grey)
Cups – Water (blue)
Wands – Fire (red)

Court Cards
The different court cards in the Osho Zen Tarot are identified by a triangle on the bottom of the card.
King – Upright triangle
Queen – Inverted triangle
Knight – Left pointing triangle
Page – Right pointing triangle
You may want to print this out and use it as a quick reference while working with your Osho Zen deck. Hope it helps!
Return to Ask Kate! to read more Tarot Q & A's