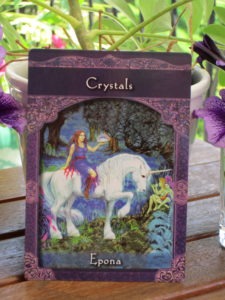 Today's daily oracle reading turned up the "Crystals" card, represented by the Goddess Epona, protector of horses.
If you have crystals in your home, now is a good time to connect with them for healing purposes. Hold them, put them by your bed at night, meditate with them and really appreciate their beauty.
The message I got when I looked at this card was that crystals are very useful in helping us manifest what we desire, contacting our higher selves and facilitating powerful dreams. Many of us have crystals sitting around and we forget to work with them.
Try This! Listen to the wisdom of your crystal by holding it in your hand, closing your eyes and letting yourself slip into a relaxed state of mind. Ask your crystal if it has any messages for you right now and then wait…..did you see any images in your mind's eye? Did any particular words or phrases come to mind? You will begin to see your crystals in a whole new light when you start doing this regularly!
Subscribe to my Daily Tarot Readings for daily updates.