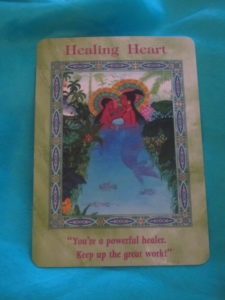 The daily oracle card for today is Healing Heart and it's message is: "you're a powerful healer, keep up the great work!"
This weekend will be all about healing yourself and others in many different ways. The healing power of the ocean figures prominently in this card and I feel like any activity by the ocean – relaxing on the beach, swimming, boating, kayaking – will be healing this weekend.
Laughter is also healing – and so the more you connect with friends, spouses, kids and pets, the more opportunity for shared laughter.
But the real message of this card is to be fully present in your interactions with others this weekend – and this in itself will bring about an incredible healing energy that will bring about peaceful and positive feelings. When your talking with a friend, really listen to them and when you are snuggling with your pet, sense the energy that is being exchanged.
Try to minimize multitasking this weekend, as it is difficult to be fully present when you are trying to do a bunch of things at once. Just focusing completely on doing one thing at a time will be healing for your mind, body and spirit – and for those around you.
Have a lovely, healing weekend!!!