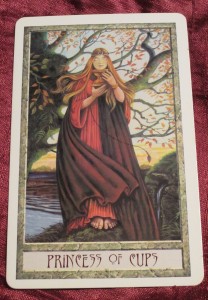 Today's Tarot Card, the Princess of Cups, encourages you to truly enjoy being alive. Take time to savor earthly delights such as walking barefoot across the grass, eating good food, the feel of the sunlight on your skin and the smell of Summer in the air.
Your ability to create a beautiful life for yourself and progress on a spiritual level is connected to how well you are able to enjoy this present moment.
In general, our society discourages us from spending long periods of time just luxuriating in the beauty of what is. Instead we are encouraged to rush about and to be at war with what is, exerting a ton of effort to change things. The best book I have read on this topic is The Power of Now by Eckhart Tolle.
So be a rebel today – allow yourself to accept everything as it is and enjoy the relaxation and peace that follows from this way of being. Today will be all about re-learning how to fully enter the present moment and to stop and smell the roses. Today, be like this Princess of Cups – calm, receptive and joyous.