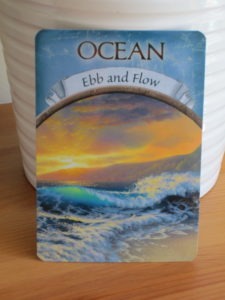 Today's daily oracle card is "Ocean: Ebb and Flow" and it carries with it a message of constant change, cycles and fluctuations.
Like the tide, your life will have times of ebb, where things will seem to slow down and there may be a lack of abundance. And then times of flow, where abundance will come to you easily and naturally.
Times of flow can be exciting and exhausting, so rather than being afraid of the times of ebb, see it as an opportunity to rest and catch your breath. You will need to gather your energy to prepare for the coming period of flow and abundance.
The other meaning I get from this daily oracle card is that we can recharge our batteries by spending time by large bodies of water – oceans, lakes, rivers. I don't think swimming pools really count. The energy that these bodies of water give off can positively change our moods, so make it a priority this weekend to got to the beach, swim in a lake or lounge by the river!