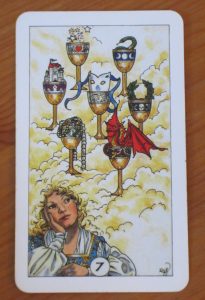 Halloween is one of my favorite days of the year – there is always such a fun, magical, mysterious energy to this day! The Seven of Cups is the card I drew and it represents choices, dreams and indecision. 
Do you feel like your head has been stuck in the clouds lately? If you have been feeling scattered, the Seven of Cups reminds you that having lots of dreams, interests and choices is something to celebrate. But if you feel like you spend way more time dreaming than actually making your dreams happen, you may want to take a new approach.
The main message I got with this card was that once you identify what your major time wasters and energy zappers are, you will be well on your way to transforming your life.
I thought about this myself and realized that watching TV and spending unproductive time on the internet was draining most of my free time. For the month of November I am going to eliminate TV altogether and limit my internet time and see what kind of a difference it makes in my life.
The Seven of Cups Tarot card prompts you to ask the question: What change can you make today that will enhance the quality of your life and help you get your head out of the clouds?