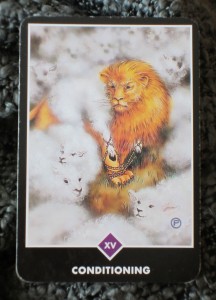 Today's Tarot Card, "Conditioning" (The Devil in a Rider Waite deck) is one of the most fascinating cards in the Osho Zen Tarot deck! It is all about questioning our identity and realizing our true power and potential.
We are powerful, magnificent beings who have been conditioned through our society to believe we are weak, powerless and unimportant and that life will be easier if we go along with the herd (like sheep). When we awaken to this, we realize that these limits are self imposed by our beliefs about ourselves. It is time to step out of the false beliefs that bind us and into our true, empowered, radiant state of being.
Notice what small beliefs you have about yourself (such as what can I do? I'm just one person) and take the time to question them. Also, notice if you have any fears about becoming awakened and stepping into your true power. You might feel worried that you will be lonely and unable to relate to those around you or you may fear being shunned by your friends and family. Just noticing these fears and how they hold you back will allow them to disintegrate.
I am excited to announce my next Full Moon Reading will be on Nov 28, 7pm PST and will be on the topic of creating more prosperity and abundance in our lives. Click here for more info!