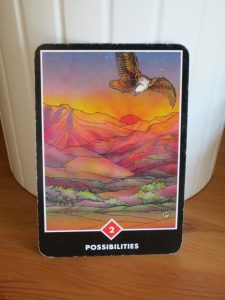 Possibilities abound when you get a bird's eye view of your life! Today's Tarot card is the Two of Wands (or 2 of Fire in the Osho Zen Tarot), and it represents taking a moment to assess your life and where you are going.
If you are able to step back and see the big picture and all the themes of your life, you will have an easier time knowing which direction to take from here. But if you are still stuck in the drama of everyday life, knowing what to do and where to go can be a struggle.
Once you are able to "rise above" any situation, withdrawing your emotional ties, you will be able to see the pros and cons without bias. The Two of Wands Tarot card suggest that you look at your life with this big picture perspective so you have a good idea of where you are going and where you would like to invest your energy next!