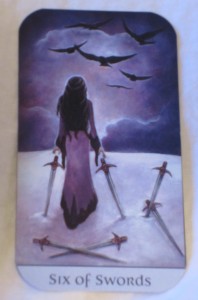 Today's Tarot card is the Six of Swords from the Crystal Visions Tarot deck. This card represents movement and making a passage of some kind. Since it is from the Swords Suit, it indicates that thoughts and mindset are the key issues here.
Are you wishing you were someplace else right now? Perhaps you wish that you were further along than you are or that things were clearer and more obvious. Rest assured you are moving forward, even if it isn't 100% apparent yet.
Don't get caught up in the whole "grass is greener on the other side" line of thinking, but do look to those you admire for inspiration and wisdom. If you are wanting to achieve something, observe those who have already walked that path – you will be amazed at what you can glean from doing this!
The main message I get from the Six of Swords is to be patient with yourself – you are shifting to a new way of thinking right now and all will be clear in time.