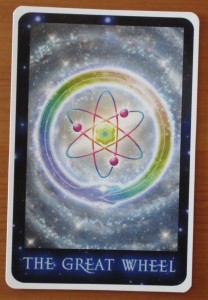 The Great Wheel is today's Tarot card and it signifies a completion of some sort. It's time to celebrate what you have achieved and begin looking forward to a fresh start.
Today you have an enhanced ability to renew yourself and reinvent your life. That sounds pretty big – I know! What you visualize today could end up coming to fruition by months end – so focus your attention on what you do want, not what you don't want.
You may feel as though there is a lot of excitement building around you and ideas, opportunities and interesting people are coming at you from all directions! The key to dealing with this increased energy is to stay centered – breathe and observe, but don't get sucked into the craziness!