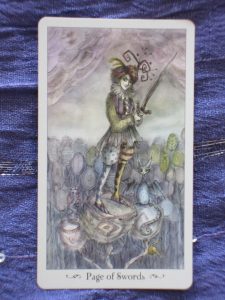 The Page of Swords from the Paulina Tarot is today's card and he comes with a warning: don't speak until you have thought things through.
If you are feeling particularly annoyed with someone, you may be tempted to write them a snippy email or give them a piece of your mind. Put some distance between the event that upset you and your response – give yourself time to calm down, collect your thoughts and evaluate your feelings.
The Page of Swords can also indicate feeling uncertain about something. If you feel this way, use the power of your pen to sift through your feelings. Write out all your concerns on paper (you can shred or burn the paper after if you are worried about others finding it). Once you have your thoughts down on paper, chances are they won't be swirling about in your mind, making you all crazy!