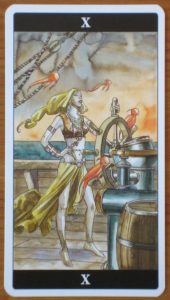 You are the captain of your own ship! That is the main message of this Wheel of Fortune. Don't fall prey to the belief that you have no control over your circumstances, because you do.
However, if you don't realize that its you at the helm, life will feel chaotic, random and confusing. But its time for you to take the wheel and steer your ship into sunny harbors!
Today is a good day to be deliberate in everything you do. Where do you want to sail to? Write it down! Make a plan. Be conscious of every choice you make today – what you choose to think, eat and do. Who you choose to interact with and how you choose to feel. And begin to recognize yourself as the captain of your life.