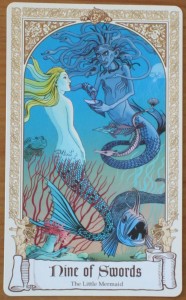 Don't give up your voice! Today's card is the Nine of Swords from the Fairytale Tarot and The Little Mermaid is the story associated with it.
The Nine of Swords often represents regret and The Little Mermaid is about trading your voice for something (in this case, legs). If you hold back and don't speak your truth because you think keeping silent will get you something you want, you will regret it.
No one can silence you – but you can willingly silence yourself. Don't do it! At least, not today, anyway. Sometimes silence is best, but if it makes you feel powerless, then speak up loud and proud.
Your silence won't have the placating effect you are hoping for anyway, so might as well speak your truth!