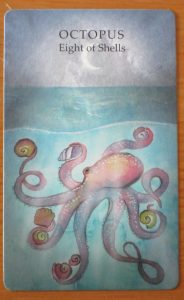 The Eight of Shells (aka Eight of Cups), comes today to remind you that you may never feel you have enough. You many never feel like you have "arrived" – so don't go striving for something that doesn't exist!
Like the octopus, you want to touch many different things! You want to do a little of this, a little of that, all with the hope that something will satisfy that deep, inner craving….but for what? You aren't sure.
The best thing you can do today is retract your tentacles from all the distractions of your life. Meditate in a quiet room and pretend you are at the bottom of the ocean, relaxing in the still, deep waters.
When you stop searching, you may just find what you've been looking for!