This afternoon as I was reading Andy Matzner's The Tarot Activity Book, I was inspired to try one of his Tarot projects: creating my very own Tarot display jar!
I'm going to give you a run-down on how it went…but first I want to tell you about Andy's book.
The Tarot Activity Book is just that – a whole book full of Tarot crafts, journalling exercises and fun activities, none of which involve reading the cards – which is refreshing.
Tarot's usefulness extends far beyond the realm of readings and this book helps you use Tarot in ways you've never imagined.
One of the activities in his book is to make a Tarot mason jar. Mason jars have become trendy ever since hipsters started drinking green juice out of them with straws. A cafe in my neighborhood started using them as lightbulbs and the place became an instant hipster haven. Hordes of plaid, beards and tuques suddenly began beating their door down! It was wild!
Step 1: fill mason jar with salt or sand
You only need about 1″ of salt or sand. You could use soil if you're really earthy, or that pink Himalayan sea salt if you like pretty shit.
This is to provide a base to put stuff in later.
Step 2: decorate the jar
I skipped this step because I'm lazy and also because I just knew it would end up looking like crap.
Andy suggests using acrylic paint to pretty up the inside or outside of the jar or even gluing bits of fabric or papers on it. Someone good at crafts would do a good job of this – me? Not so much. I know my limits.
Step 3: choose a Tarot card to go in the jar!
This is the best part. I chose The Star because it helps me remember to relax and let go and stop trying to control everything and everyone.
If you're trying to manifest something, you could choose a Tarot card that represents what you want to bring into your life.
Or, if you want to channel a particular card's energy, like the Queen of Wands or The Empress, you could choose that for the jar.
OR… if your a fan of doing daily one card draws, you could put your daily draw card in your jar and change it up each day.
Step 4: Put nice objects in the jar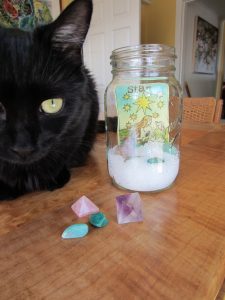 Choose some objects that relate to your chosen Tarot card or that are special to you and place them in the bottom of the jar, around the card.
I chose some pretty colored crystals, but you could use jewelry, sea shells, flowers, and other trinkets.
My cat decided to help me with this step by knocking all my crystals off the table, one at a time…
Step 5: Illuminate! (optional)
Put a battery operated candle or string of lights in your Tarot jar to create a magical glow!
I first used a string of fairy lights for my Tarot jar but I didn't love how they seemed to obstruct my view of the Tarot card. A smaller string would have been ideal.
I then tried using a real tealight and this was a terrifying disaster! I almost burnt my Tarot card and the flame was so bright it also seemed to obstruct the card.
I think the best option is one of those fake plastic tealights that use a battery. It will create a soft glow without turning your jar into a Tarot inferno!
Unfortunately I didn't have any battery powered tealights on hand, so I'm just making due with the show-stealing string lights until I find some.
Step 6: Display your Tarot jar!
Proudly display your Tarot jar somewhere you'll see it, like your desk, bookshelf or bedside table.
Whenever I look at my Tarot jar, I'm reminded that there is order in the chaos and that everything is working out the way it needs to. It's okay for me to let go and trust…
Check out The Tarot Activity Book!

If you liked this crafty Tarot exercise and find yourself thirsting for more, Andy Matzner's book has lots to offer. With almost 100 Tarot activities and exercises, this book helps you go beyond readings to develop a whole new dimension to your Tarot journey.
Show & Tell…
My challenge to you is this:
Decide what card you want to feature in your own Tarot jar and tell me in the comments below…
Create your own Tarot jar and then hop on over to my Facebook page and send me a pic! I can't wait to see what you create!!!
Good luck and have fun 🙂
xoxo
Kate