You may have noticed that many "How to Read Tarot" books recommend keeping a Tarot Journal. And you may be thinking Why Bother?!
I thought this too, when I was first learning how to read Tarot cards. A few times I started a Tarot Journal, then forgot about it. Sound familiar?
I used to think the whole process of keeping a Tarot Journal was boring, slow and pointlessly time consuming! I felt same way about regular journaling, too.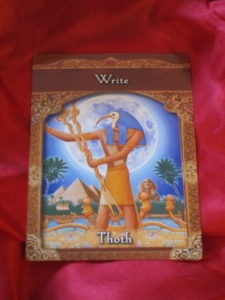 But when I discovered the work of SARK and Leonie Dawson, my idea of journaling changed dramatically. While simply writing about myself on a blank page bored me to tears, I noticed that when I had a specific question or topic to write about, journaling was a blast!
So I applied this idea to my Tarot journaling process….and suddenly I was obsessed with journaling about Tarot cards! I even created my own original Tarot Journal, which I now have for sale on this site!
How to create your own Tarot journal:
Buy a spiral bound notebook and some colored felt pens from the Dollar Store (throw in some sparkly stickers if your feeling silly)
…
Write an open-ended question at the top of every other page
…
Possible questions:


What talents am I not using?

How can I manifest my dreams quickly?
What do my spirit guides want me to know?

What is my greatest strength?)

…

Choose one Tarot card for each question and then journal about it! Notice what symbols or figures jump out at you. What does this card seem to be telling you?

Tip:
Don't attempt more than a couple pages per day. Even one page a week is enough to make this a meaningful practice.
This method of Tarot Journaling is super effective!
Having a topic or theme to write about gives your journal entries direction. It also invites you to get more personal and in-depth than you normally would. Plus its extra fun.
To see how I created my own Tarot Journal and to get some ideas, here is my video:
If creating your own journal isn't really your thing, you can always purchase a copy of mine (I won't mind!).
Your Tarot Journal can be as simple or as fancy as you like. You can draw rainbows and fairies in the margins like you did when you were eleven. Or you can keep it clean and strictly business if that's your style! Do what works.
Tarot Journalling transforms your Tarot reading skills because…

Spending time writing about the Tarot cards in a way that is personal really forces you to contemplate the Tarot card meanings on a deep level. The more you gaze at your Tarot cards, the more you open up to greater insights and fresh perspectives.
The writing process helps unlock your intuition, allowing insights to come flooding in. Journalling really personalizes your experience with your Tarot cards – they become a part of you, not just a tool you sometimes use.
So don't hesitate to craft an amazing Tarot Journal – make it a fun, weekend project!