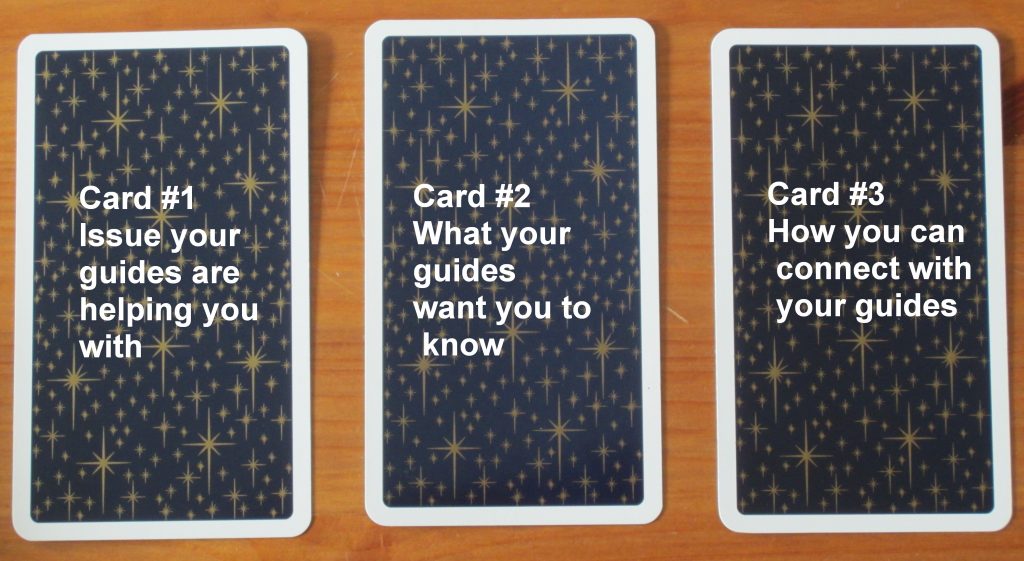 This 3 card Tarot spread was designed to help you connect with your Spirit Guides and Angels so that you can receive high-level guidance and comfort.
Sometimes it's not always easy to clearly hear the messages your Spirit guides and Angels are giving you, but by using your Tarot cards as a "spiritual telephone", you can directly communicate with your spiritual support team. This spread also works beautifully with oracle cards – especially Angel Cards!
Card #1: The main issue or area of your life that your Spirit Guides & Angels are helping you with right now
Pay attention to the suit of the card. Pentacles refer to health, home and money while Wands are about taking action, being creative and getting inspired. Swords represent the mind, thoughts and communication while Cups signify relationships and emotion.
Card #2: What your Spirit Guides & Angels want you to know right now
This is the most important message that they want to give you at this moment. It may be a call to action, encouragement or advice. But often it is simply a message of comfort and inspiration.
~
Your Angels and Spirit Guides will never ever give you a negative, scary or depressing message. If you get a negative card in this position, be willing to open your mind and dig deep to find the positive message. Watch my video below to see how I do this when The Tower shows up in this position.
Card #3: How you can connect more with your Spirit Guides & Angels
There are a zillion ways for you to strengthen your connection to your guides and many ways you may not have considered. Keep an open mind! What does the card seem to be saying to you? Don't be afraid to stray from the traditional meaning of the card here.
~
Pay attention to what the people on the card are doing. Are they dancing, charging forward with certainty or just contemplating life? These are your keys to discovering new ways of connecting with spirit.
Tarot Tips:
Have fun with this spread and remember that if a card really doesn't make sense to you, draw a second card for clarification.
~
When reading with this spread, its helpful to hold the deck in your hands before you begin and take a moment to consciously connect with your Spirit Guides and Angels. Set the intention to receive clear guidance from them.
To get a good idea of what this spread is like in action, check out my Tarot reading video below:

You may also enjoy:
~How to Read Tarot with Love, Light & Intuition
~Review of Doreen Virtue's Angel Tarot Cards
~How to Develop Your Intuition for Tarot Card Reading