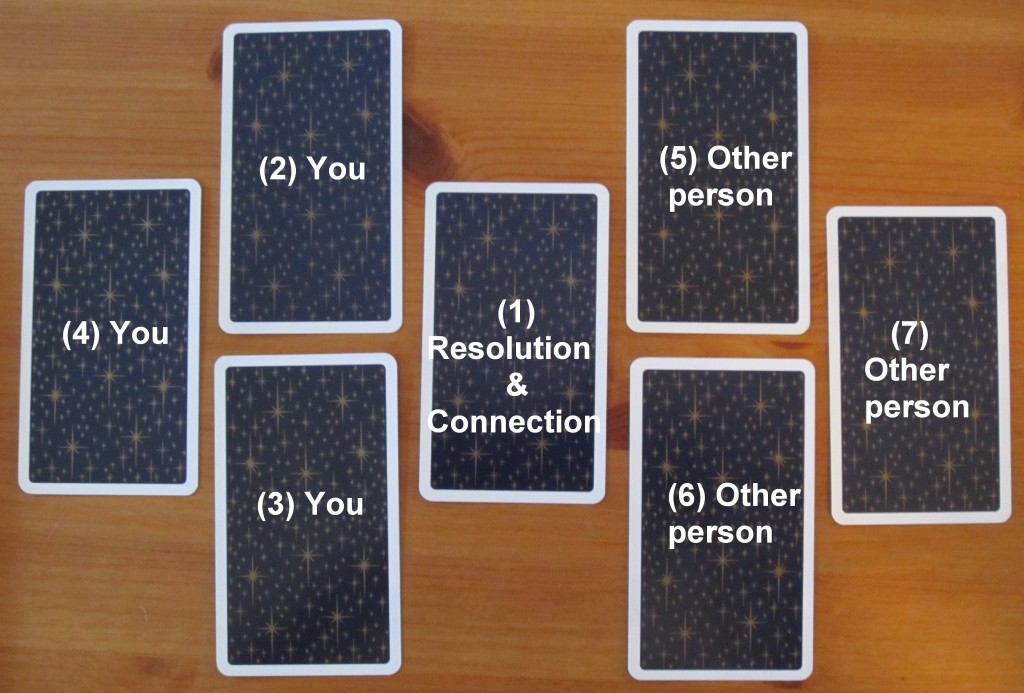 What's going on in your relationship? This Relationship Spread can be used whenever you feel like you aren't on the same wavelength with someone – whether it's a romantic partner, co-worker, friend or family member. This tarot card layout will give you insight into the inner workings of any relationship and guide you toward deeper communication and understanding.
For a larger selection of Love Tarot Spreads, check out my e-book Tarot Card Spreads for Love, Sex & Relationships

3 cards on the left – You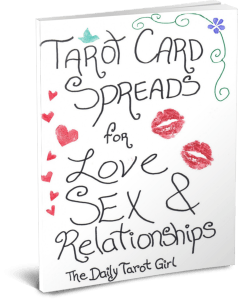 Personality traits
Issues/blocks to communication
Your perspective
What you are wanting/needing
3 cards on the right – The Other Person
Personality traits
Issues/blocks to communication
Their perspective
What they are wanting/needing
Center card – Resolution & Connection
The best way to resolve any issues
How to bring more understanding to the relationship
Ways to communicate and connect to other person
*If card #7 does not provide enough insight, you can choose up to two more cards in this position for further clarification.
*Tip: Compare and contrast the cards on the left with those on the right – are they vastly different? Opposing? Or do they complement each other nicely? How do you imagine the characters on the cards to interact with each other?
Here is my video on how to use the Relationship Spread in a Tarot Reading:
 You may also like: Love Tarot Card Spread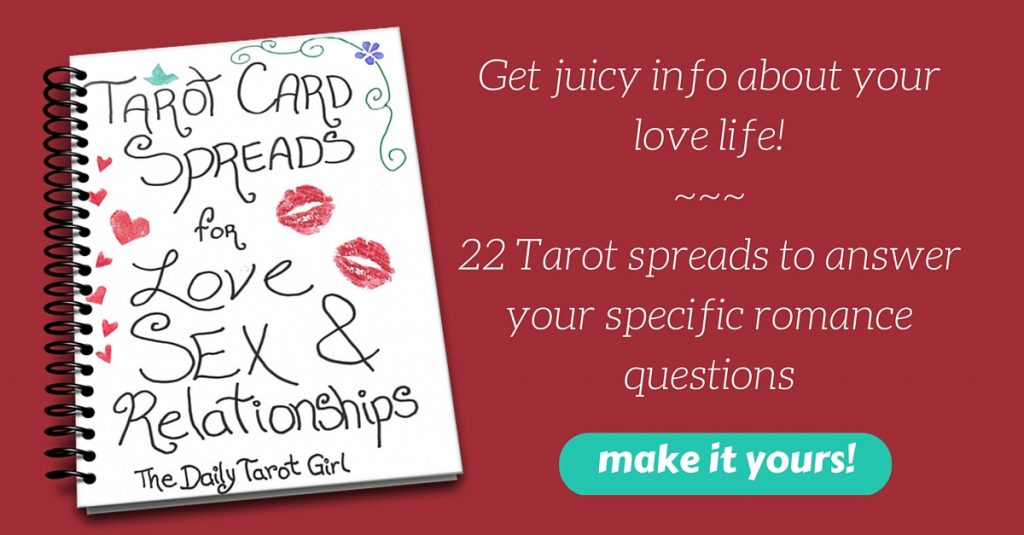 Sample of a love and relationship tarot reading using the Relationship Spread: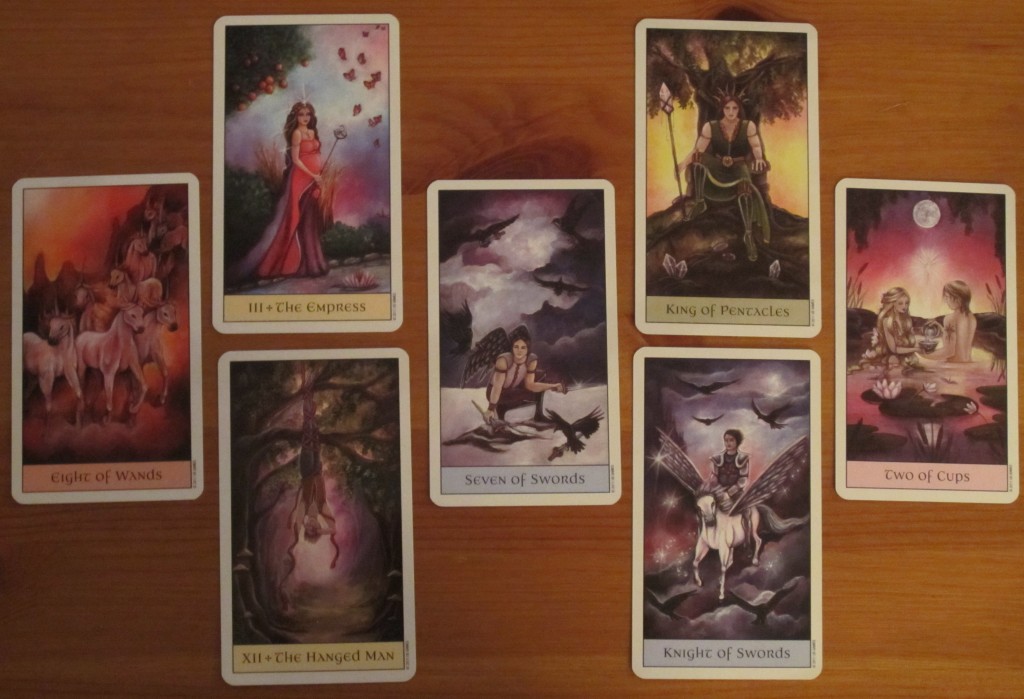 3 cards on the left (Jayne – The person being read for)
Eight of Wands – Jayne prefers straightforward communication and likes things resolved quickly and smoothly. At times she may seem impatient and even blunt in her communication style.
The Empress – This tarot card shows that Jayne also has an easygoing and nurturing side to her. This can sometimes mean that she falls into the caretaker role in this relationship, always being the one to fix things and hold it all together. However, she has the advantage of using her warm, earthy qualities to connect with her partner and create trust and safety in the relationship.
The Hanged Man – Jayne may feel somewhat powerless and at the point of of just giving up and surrendering when it comes to trying to communicate with her boyfriend, but if she is able to let go of her ego a little, she will have an easier time looking at their relationship from a different perspective – perhaps even seeing his point of view.


3 cards on the right (Jayne's boyfriend)
King of Pentacles – This court card indicates a stable, down to earth man who grounded and confident. He appreciates resolving conflicts in a calm, relaxed way.
Knight of Swords – Jayne's boyfriend also has an aggressive, driven side to him which can make him seem cold and hard-shelled at times. When feeling insecure, he may be quick to become defensive and argumentative, using harsh words as weapons. When discussing important issues in the relationship, the atmosphere should be relaxed and respectful, taking a time-out if things get too heated.
Two of Cups – Intimacy and strong partnership is important to Jayne's boyfriend. Sharing feelings and trusting the other are things that will not be too difficult for him under the right circumstances.
Center Card (Seven of Swords) – This card is associated with dishonesty, betrayal, not thinking things through and trying to hide something. Because this card is more on the negative side, it represents what is blocking the relationship. In order for the quality of the relationship to improve, there needs to be honesty and openness. Both parties may be holding things back because they fear the other will not understand them.
However, there are a lot of similarities between these two – The Empress is very compatible with the King of Pentacles and Eight of Wands shares a few traits with the Knight of Swords. Also, the Two of Cups is a good omen in any relationship spread! Jayne can start by being more transparent in her relationship and see if that allows her boyfriend to let down his guard a little.
More Tarot Card Spreads….
Love Tarot Spread
E-Book: Tarot Card Spreads for Love, Sex & Relationships