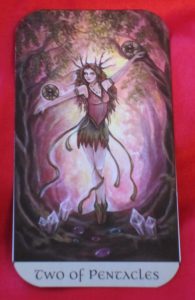 Monday's Tarot card is the Two of Pentacles and this card is all about balance and performing under pressure.
You may find yourself juggling two or more responsibilities today, but rest assured that you will can manage the chaos effectively and with grace.
You can handle a lot all at once, but beware of the temptation to take on even more. This is a balancing act and tipping the scales too much to one side with cause everything to come tumbling down. When others see how well you manage stress and responsibilities, they may ask for your help, so know when to say "no".
The trick to keeping calm amidst business is to stay centered within yourself. Don't get pulled into any dramas today – instead, take deep breaths throughout the day and focus on what needs to get done.