The other night I woke at 3am, full of anxiety about an issue that was on my mind. I felt full of uncertainty and I really just wanted answers, guidance and comfort. Whenever I feel sick to my stomach with worry, I reach for my Crystal Visions Tarot and my Angel cards.
But I knew that if I did a reading for myself in this state of confusion and fear, it would end up being a jumbled, nonsensical reading.
So I made an extra effort to ground myself and clear the energy in the room – clearing the decks for a great reading to take place.
Once sacred space and clear intention had been created, I felt so calm and grounded and ready to read the cards. The reading I did for myself was amazing – it was clear and accurate and left me feeling totally connected to my angels and guides, like they were right in the room with me! However, I know it would not have been so crystal clear and uplifting had I not taken the steps the I did before the reading.
Here is my personal formula for creating sacred space and clearing my energy: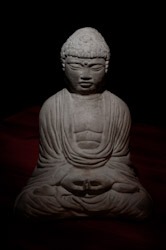 1) Light some candles, turn down the lights and put on some relaxing music
2) Sage my aura – I do this by lighting a bundle of dried sage and wafting the smoke around me, with the intention of clearing my energy field of any fear or anxiety
3) Clear my reading space by wafting the sage smoke around my reading table
Sit calmly and "ground" my energy by taking slow, even breaths and visualizing any negative energy or worry draining out through my feet and into the floor. I make a conscious effort to connect my energy to the earth's energy
4) Connect with my deck by holding it in my hands, closing my eyes and asking my Angels, spirit guides and higher self for help and guidance with my particular issue
5) Begin the reading with absolute trust that the cards that I choose are the ones I need to see at this time
I cannot tell you the countless times I have not taken these steps and instead did a rushed, panicky reading in a frantic attempt to get the answers I was looking for. It never worked out when I did it that way!
Creating sacred space makes your reading special and sends a message to the universe that you take this seriously – so expect to get outstanding results when you try this. Doing this one thing will change the quality of your readings in profound ways.
Perhaps you have your own ritual or steps for creating sacred space and clearing your energy before a reading? If you do, I would love to hear about them in the reply section below!!!