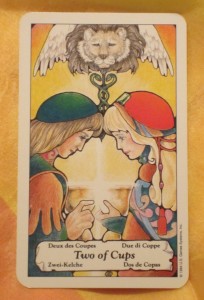 The Two of Cups is Friday's Tarot card and it brings a message of coming together, meeting the right people and enjoying peaceful relationships.
You may meet someone today who shares your interests and zest for life – not necessarily a romantic partner, but someone who is a kindred spirit nonetheless.
You may also find yourself starting a new project with a business partner or coming together with a friend for a common purpose. Good communication, agreements and positive feelings abound with this card!
If you are in a relationship you may find that today goes particularly well, as romantic feelings are enhanced at this time. If you are quarreling with your partner, try to find three things you love about your partner and focus on those for today…and notice how this changes things.