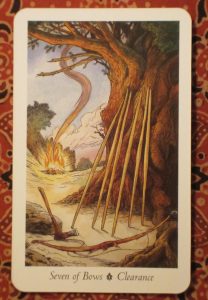 The daily Tarot card for Monday is Seven of Bows (aka Seven of Wands). The keyword on this card is Clearance and indeed today is about clearing out energies that no longer serve you – particularly the desire to compete with others.
You are entering a new phase of success in your life and part of it has to do with no longer comparing yourself to others. Competition and winning are quickly becoming extinct words in your vocabulary.
The more you realize your true uniqueness, the less desire you have to compete with others. It is only when you are doing the same thing that everyone else is doing that you feel a need to compare and contrast yourself to others – do something wildly different and there simply is no comparison!