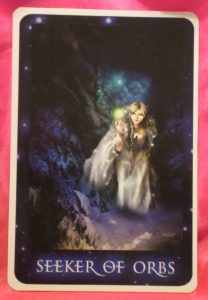 The Seeker of Orbs (aka Page of Swords) shows up today to give you encouragement and confirmation as you explore your life path and play the role of spiritual seeker.
As you stay true to yourself and follow the path that calls out to you, be careful not to get distracted with every shiny bauble that catches your attention. Keep your eye on the prize!
When you receive offers, invitations and opportunities, ask yourself how they fit into your life's purpose. Are they in alignment with your life path? Or will they be a distraction and drain on your energy? Use discernment!
Remind yourself to stay focused today, for there will always be sparkly, interesting things there to distract you 🙂